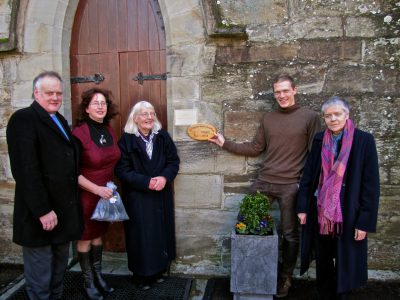 Congratulations to Clonakilty Methodist Church, Co Cork, on becoming the first church in Ireland to receive two Eco-Congregation Ireland (ECI) awards!
Since receiving its first award in 2008, the congregation has continued in its endeavours to become more eco-friendly both at church and at home
and their continued efforts led to them receiving a second award on 27th January 2013.
It was a wonderful positive occasion with people from local churches also attending as well as members of Sustainable Clonakilty and pupils from a nearby green school. Everyone was invited to join in a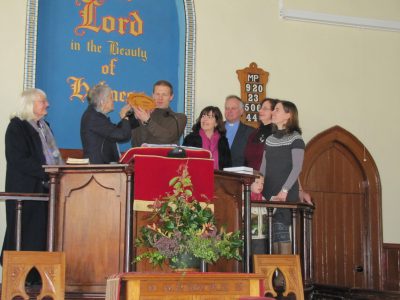 LOAF* lunch afterwards (Locally-produced, Organically-grown, Animal-friendly and Fairtrade).
Clonakilty deservedly hit the headlines with its award, including on the RTE television news and in The Irish Independent and The Southern Star.
The church has taken many practical steps to become more eco-friendly, including recycling, using eco-friendly cleaning products and energy-saving light bulbs, serving Fairtrade refreshments and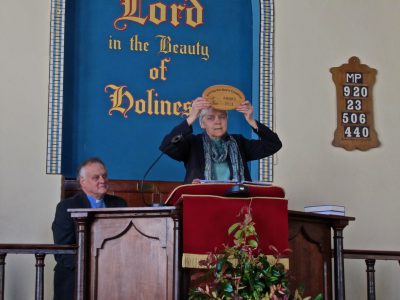 developing a garden at the back of the church and planting trees. As far as possible, lights are kept switched off during services; natural light coming in through the windows being sufficient along with two solar-light lamps that were installed beside the pulpit and the organ.
During worship, sermons and prayers often emphasise commitment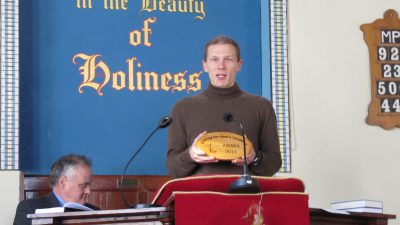 to the welfare of the planet and members are given an eco tip to bring home each week, which they are encouraged to adopt in everyday life.
Community events often have an eco theme too: a musical evening was held to raise funds for the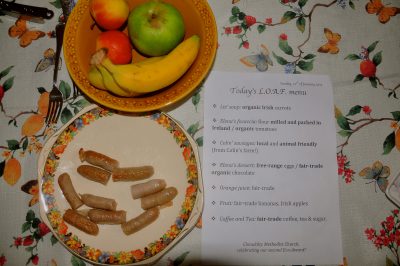 West Cork Animal Welfare Group and a Christmas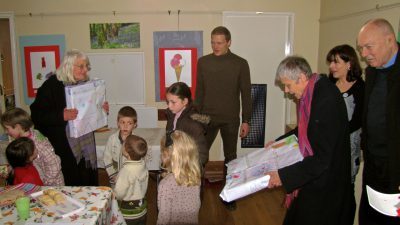 charity craft sale, which raised money for projects in developing countries, included a selection of fair-trade products.
Sr Catherine Brennan, ECI chairperson, said she was delighted to present Clonakilty Methodist Church with its second award. "Great credit is due to your present eco group who have recommitted your congregation to the important ministry of protecting, healing and caring for God's creation," she said. "You are living God's love for the whole of Creation in all your eco ministry. Congratulations on the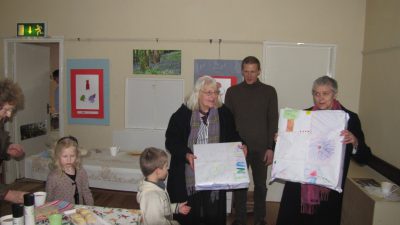 work being done in saving energy and reducing your carbon footprint."
Sr Catherine described the weekly green suggestion with its eco tip as an "excellent idea" for encouraging the congregation to make eco-friendly choices in their personal and family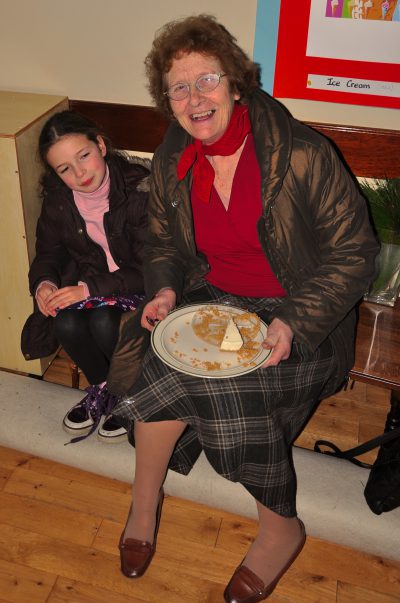 lives: "These ideas are so practical and doable. The development of the garden, the planting of trees and flower seeds is a special contribution to God's creation as is your work in the local community with other churches and organisations as well as your outreach to the developing world.
"Jesus spoke about the importance of small things – the mustard seed, the grain of wheat, the woman's coin, the five loaves and two fishes. Small is beautiful. God's first covenant was not with human beings alone but with the whole of creation …. Here in Clonakilty Methodist Church you are honouring this covenant in your eco work."
Natasha Harty, one of ECI's independent assessors, presented eco champion, Mattia Leoni, with a gift of biochar that she had made (to learn about biochar, see the news item below).
Sr Catherine and Natasha were both given presents by the congregation wrapped in eco-wrapping made out of waste paper by the children in Sunday School.
Following the event, Mattia was showered with positive comments, like "Thank you", "It was very nice", "Really good", "A lovely moment" and, of course, "Congratulations!"
He believes the warmth and good feeling was not simply the result of the beautiful sunny day, but that people "really felt they shared something special: they all seemed to cherish the importance of the whole theme, the effort, the focus on a more environment-friendly style. That's what really made us, the eco-team, very pleased: not merely the recognition, the award in itself, of which of course we are very proud, but the fact that the congregation was fully behind us. They were just as happy and proud as we are, and the visitors and guests were not only glad for us but happy to share our commitment and results, to see that a part of their community was doing this. The day was surely celebratory, but at the same time I think it was stimulating, inspiring: for the team to carry on what we are doing and to come up with new ideas.
"The LOAF lunch itself is proof of this, as we devised it especially for this occasion, and the bio-charcoal we received as a gift will help us and push us to take care of our garden better and better."
Mattia hopes that the visitors that day will start something similar or, in the case of Sustainable Clon, will keep up their own efforts. Similarly with the Sacred Heart School, which is involved in the Green Schools scheme.
"As we said when receiving the award, we are honoured of having two now, and we commit not to forget and to be ready to get our third one when the time comes, which will imply keeping the momentum going and continuing to look for new ways to improve in our attempt to become a help rather a burden to nature, because we know it's a long, hard journey, with many steps to be taken.
"And we will do it very happily, because as more than one person remarked last Sunday, eco-activities bring the best out of people."
To find out more re the eco initiatives undertaken by Clonakilty Methodist, see here.
Congratulations to Clonakilty Methodist and we wish them the best of luck in their continuing eco journey 🙂
* The LOAF lunch menu:
Liz's soup: organic Irish carrots
Elena's focaccia: four milled and packed in Ireland and organic tomatoes
Colin's sausages: local and animal-friendly (from Colin's farm)!
Elena's dessert: free-range eggs/Fairtrade organic chocolate
Orange juice: Fairtrade
Fruit: Fairtrade bananas, Irish apples
Coffee and tea: Fairtrade tea, coffee & sugar