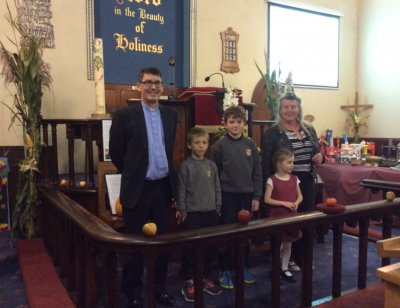 Grace Kingston, a member of Clonakilty Methodist sent ECI this report:
The President of the Methodist Church, Rev Dr Laurence Graham, delivered the Climate Justice Candle to Clonakilty Methodist Church whilst on a visit to the West Cork Circuit on Friday 29th September 2017. In preparation for hosting the candle, we invited four local schools to take part in a number of competitions for different age groups to highlight the issue of climate justice. We had a colouring competition for younger children and some of the older children were asked to design an Eco-Congregation logo. There was also a competition to make musical instruments from recycled materials.
We opened our church on Saturday 30th September for people to view the competition entries. We had a number of visitors during the day and each one was invited to a bowl of soup or a cup of tea. We were able to share with them about the work of Eco-Congregation Ireland. During the day the competition entries were judged for us by a local artist, Lorraine King-Marshall. We hosted the candle during our Harvest Thanksgiving week-end and it was lit for the first time during our morning service on Sunday 1st October. The Church was decorated with fruit, vegetables and beautiful flowers. The Children's competition entries were also on display. The theme of the Service was 'Justice' and we looked at the issue of slavery. We heard about the work of 'International Justice Mission', an organisation which helps to rescue slaves and bring the perpetrators to justice.
Climate Justice was the theme of our Harvest Thanksgiving Service on Monday 2nd October. At the start of the Service we presented prizes to some of the children who took part in the competitions. Our main speaker was Sr. Margaret Twomey from the Sisters of Mercy in Clonakilty. She spoke about Eco-Congregation Ireland, the challenge of climate change, the issue of the Sabbath in the context of increasing economic development and the Biblical imperative of being good stewards of God's creation. The Catholic Parish choir sang at the Service which was attended by folks from the three main denominations in the town. The Service was followed by a traditional Harvest Supper. Hosting the Climate Justice Candle has challenged us about our impact on the environment and has raised awareness of the issue of 'Climate Justice' in our Community.
The photo above shows Rev Denis Maguire, Lorraine King-Marshell and 3 of the prize-winners (Sam Leoni, Tom O'Donovan & Ella Forristal) – the ECI Climate Justice Candle and some of the entries in the competition are in the background.