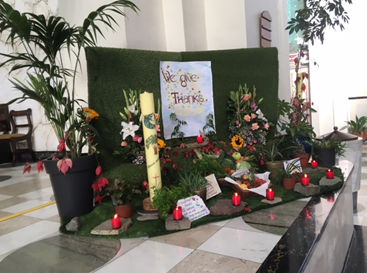 Clare McCutcheon from the Faith in Action Group in Ballineaspaig Parish, Co Cork sent ECI this report on the visit of the ECI Climate Justice Candle to their parish where it was the focal point of their Harvest Thanksgiving and Sharing Celebration.
We were privileged to host the Eco-Congregation Ireland Climate Justice Candle last weekend, to coincide with our annual Harvest Thanksgiving Mass which was celebrated on Sunday 23rd September.
Fr. Tom led the congregation in a celebration of the gifts of creation, through specially selected prayers and music.  The Liturgy Group decorated the church with baskets of fruit and vegetables and a beautiful shrine symbolising the abundance of the earth's bounty which we are so fortunate to enjoy.  The focal point of the shrine was the ECI Climate Justice Candle, reminding us of the urgent issue of climate change and the stark contrast between the abundance we enjoy and the horrifying extremes of weather in other countries which impact so heavily on the poorest people of the world.  Fr. Tom's homily further reinforced that message, and the Prayers of the Faithful, which were a selection from the ECI Prayer Service for Creation Time, continued the theme.
We held an outdoor Harvest Sharing following the 10.30 and 12.15 Masses.
After a week of wind and rain, we were blessed with a gloriously sunny day, so many stayed to chat with fellow parishioners, neighbours and friends over a cup of Fairtrade tea or coffee.
Many parishioners brought home made, home grown or locally sourced produce, from baby tomatoes to giant marrows, fruits, plants, jams, chutneys, cakes and breads.  And people bought generously too, resulting in a total of €2,000 being raised for our sister parish in Turkwell, Kenya, where they have so little.