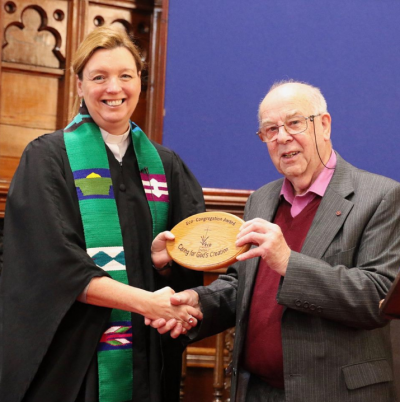 Ken Orr, a member of the congregation at Newtownbreda Presbyterian Church sent ECI this report:
The Climate Justice Candle was set on the communion table for our eco Service on Sunday 18th November 2018.  At the start of the service Ken Orr, a member of our church's eco Committee, introduced the candle to the congregation.  He talked about how the candle is travelling round Ireland and being hosted by various churches and groups who are concerned about climate justice issues and care for God's creation.
The bible readings, hymns and anthem were chosen to fit with the theme of caring for creation, while the prayers of intercession were split into three parts representing land, sea and sky, praying for healing for the damage done to the natural cycles in each domain.  A tea light was lit after each prayer, and then a final light on the eco-candle as a symbol of the Holy Spirit helping us to care for the earth and all creation.  The Rev. Tolland's sermon used the words of Psalm 8, and her recent experiences of the biodiversity of Namibia, to bring out a deep lesson on the significance of our stewardship of the earth's resources.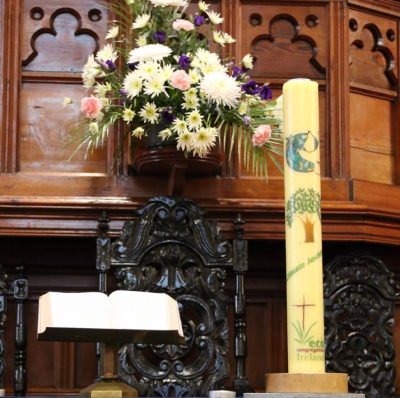 Also during the service, Mr Joe Furphy, PCI representative for Eco-Congregation Ireland, presented Rev. Anne Tolland with our Eco-Congregation Award.  Ken spoke about some of our congregational activities which show our concern for the environment, including a commitment to recycling, the use of the church grounds for bio-diversity, and our involvement in overseas mission projects with a strong environmental element.  Receiving the Award will encourage us to maintain these efforts into the future.
In the following days, the eco-candle made appearances at meetings of the Squirrels and Beavers youth organisations, and at the Root Soup Community Lunch which is held in the halls each week.  We were delighted to be able to host the candle for a week, and pass it on with our best wishes to all who host it in the future.