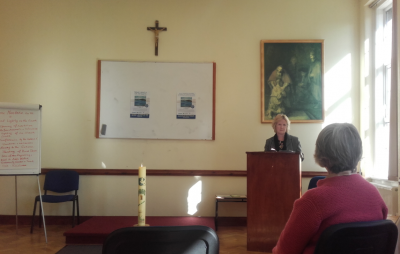 Domhnall Mac Cionnaith, Justice, Peace &  Integrity of Creation Committee, Diocese of Raphoe, Co Donegal sent ECI this report of the 'Tread Lightly on the Earth' retreat held at Ards Friay in Co Donegal:
On a lovely Saturday 29 September we held the opening day of a two week programme to celebrate the Season of Creation: 'Tread Lightly on the Earth'.  Over 100 people attended the exhibition during day one and many more during the coming days.
Twenty five Syrian refugees joined us for the day, adults and children. They are now resettled in County Donegal. Bishop John Kirby on seeing the mix of nationalities and religions remarked: "Ni neart go cur le cheile": Unity is strength! Presence and neart were the two main points of Rev. Grace Clunie'stalk, as she drew out how Celtic culture and spirituality contributes to a new ethical perspective on our changing climate chaos.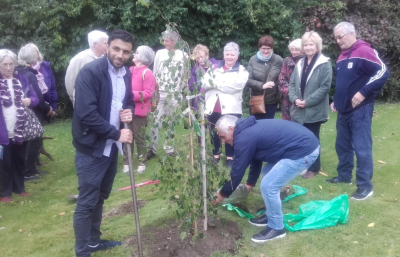 Her talk was preceded by the lighting of the Eco-Congregation Ireland Climate Justice Candle. Rose of JPIC, lit the candle. She had just recently returned from Rwanda and Sierra Leone. I gave a short explanation of the Candle's mission and pilgrimage – we are very grateful to Joe Dunphy for all his work and the communities involved.
The talk was followed by the planting of the Ogham Birch Tree (the tree of New Life) by Hasan and Khaled from Syria. This was followed by a walk to the Ards Community Walled Garden and a guided tour by Myriam of JPIC who has an allotment there. We noted in the Candle REflection Book: The coming of God's Reign/Kingdom is foreshadowed by peoples' efforts to restore God's creation and live in harmony with the earth and all peoples, and in the struggles for justice and equality.