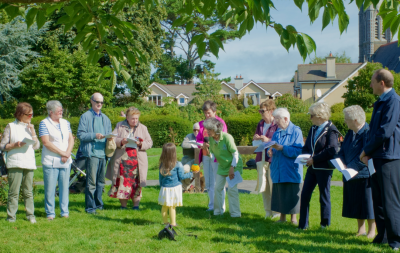 Be part of the solution to plastic pollution – Sylvia Thompson from the Diocese of Kerry sent ECI this update:
The Diocese of Kerry took up the challenge of plastic pollution for the 'Season of Creation' 2018 using the catch phrase 'Be part of the solution to plastic pollution.'  The various events were organised by Diocese's JPIC Committee.
The Season opened in Kerry on September 1st with a prayer event in Tralee Town Park at 11, an ideal opportunity for all Christian churches and all people of good will to come together as "we all know of the huge challenges facing our common home, that home for all creation."
In Killarney, St Mary's, Church of Ireland, hosted the celebration at 10.30am in its own grounds when the 'People of Killarney from all and any faith traditions were invited to meet to pray for the protection and care of this planet and its inhabitants'.
All parishes across the diocese received copies of the leaflet explaining the theme and giving suggestions of practical actions to be taken and this was also be available on the diocesan website www.dioceseofkerry.ie. The 5-week Season gave parishes the opportunity to include the theme in a Sunday mass, and resources to support this were also sent to parishes. The Radio Kerry programme 'Horizons', the daily 'Just a Thought' and the diocesan Facebook page also highlighted the theme across the Season.
The second event which was very well attended, took place in Killarney in the Pastoral Centre, Rock Road on the 19th of  September. This was a screening of the documentary entitled Plastic in Paradise, highlighting pollution in the ocean, by Derrynane based film maker Vincent Hyland. This was followed by a short recycling workshop given by Angela Nagle, a Recycling Ambassador from VOICE Ireland. "The issue of plastic pollution is on everyone's lips right now and not surprisingly as Ireland is the top EU producer of plastic waste. This Season was an invitation to become part of the solution and join the many exciting initiatives, local, national and global".