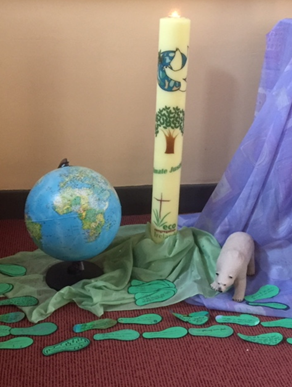 Philomena Neary RSC, Parish Sister at Cabra West sent ECI this report on the visit of the ECI Climate Justice Candle to thier parish:
Hosting the Climate Justice Candle
Our Parish, The Church of the Most Precious Blood, Cabra West was delighted to host this candle for a long week-end 21st – 24th March, 2019.
It spent its first day in the 'Prayer Room' of St. Catherine's Senior School, Cabra West.
In preparation for its visit the children prepared 'footprints' where they wrote their promise on how they would reduce their carbon footprint to protect our common home.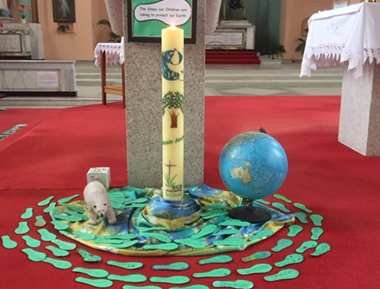 The Candle then took more 'steps' to the Church for our week-end Masses. Some of the children's foot-prints were on display – highlighting the steps they are taking to protect our earth.
Special leaflets were prepared for our Liturgies including hymns, Penitential Rite, Creed and Prayer of the Faithful. We pledged ourselves to live responsibly and use only our fair share of the earth's resources.
We were encouraged to enjoy Creation! To take time see heaven in nature! And to go on a Carbon Fast for Lent! We used the following Creed:
We believe in God,
creator of heaven and earth,
who set the time of the day and night;
and the passing of the seasons,
who created the diversity of the planet;
and enabled it's abundance.
We believe in Jesus Christ
light of the world,
who taught us the meaning of good news;
and demonstrated it in action,
who commanded us to share our bread;
and to drink from the same cup.
We believe in the Holy Spirit
giver of life and renewal,
who opens up the possibility for change;
and assures us of hope for the future,
who grants us time to amend our lives;
and unites us in our quest for justice,
peace and the integrity of creation.
You might like to use it sometime!
Time to say Goodbye! Here we are saying 'goodbye' to this beautiful candle.