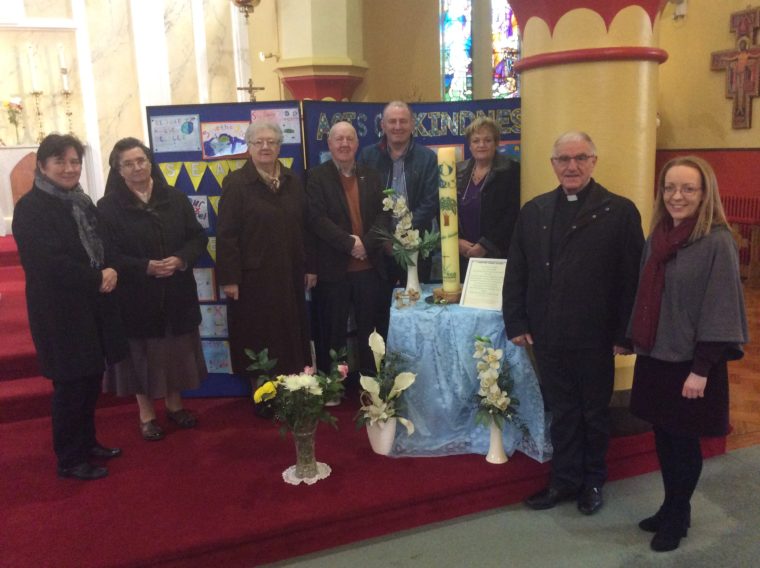 Helena Johnston sent ECI this report: A celebration of the Season of Creation from 1st September – 4th October served as a prelude to the arrival of the Climate Justice candle in our parish on Wednesday 30th October. The candle was lit for the first time in our parish that evening at the beginning of Mass. Following on from that, a prayer service was held around the candle which incorporated a discussion on the practical steps that could be taken to live with more eco-awareness.
A number of young people in our parish are working towards the John Paul II award. As part of their award, they engaged with the Glas Og programme, exploring ways they could reduce their carbon footprint and live in a more sustainable way. The artwork they produced following on from their discussion became part of the prayer space in our church with the candle as the focal point.
On Saturday 9th November, at our 6.15pm Mass, Sr. Catherine Brennan from Eco-Congregation Ireland spoke to our parishioners about climate justice and ways that we can help to slow down climate change. She spoke about the Great Green Wall initiative and intergenerational justice, reminding all present that we do not inherit the earth from our ancestors but rather we borrow it from our children.
The next morning at our 11.15am Mass, we heard from Fr. Dan McAuley who also enlightened those present on what climate justice is all about. He poignantly made reference to the fact that if everyone in the world was to live in the comfortable manner to which the Western world has become accustomed, it would take three planets to sustain such a way of living.
A proposal is to be made at the next Parish Pastoral Council meeting that the parish completes the Eco-Congregation Ireland checklist to apply for an Awareness Certificate. It is also hoped that eco-awareness will form part of the five-year parish plan in order to sustain and develop the work that has already begun.