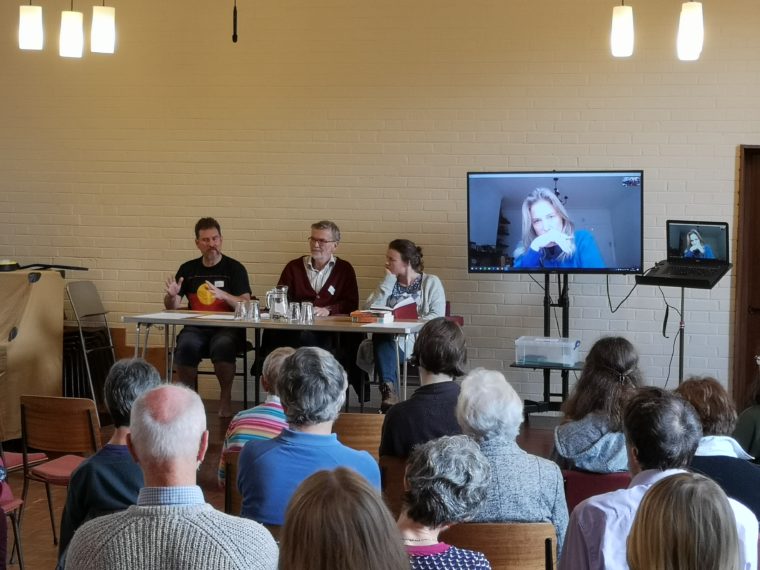 On 19th October South Belfast Meeting House was delighted to play host to the EcoQuaker Ireland conference 'Love & Despair – Action & Responses to Climate Breakdown'. Guest speakers included Lynn Finnegan, Writer for 'UN Earth Negotiations Bulletin' and Member of EcoQuakers Committee; Lindsey Fielder-Cook, Quaker United Nations Office Representative for Climate Change; and John Barry, Professor of Green Political Economy, Queen's University Belfast.
Over 60 people attended the day. Reviewing the day, one person wrote 'Inaction is not an option. Business as usual is not an option. But neither is despair – whether it is the despair of hopelessness and powerlessness, or the despair of denial (which are of course linked). We owe it to our children, and the children of the world not to stay inactive through denial and despair. John Barry said "What if we are the people we've been waiting for?"'
Fran Brady, EcoQuaker Representative on Eco Congregation Ireland Committee provided a report on the conference.
On Sunday 17th November South Belfast Quaker Meeting held a conversation after the morning Meeting. A number of the NaturesKeepers videos were shown (http://www.natures-keepers.org/northernireland/) produced by Friends of the Earth highlighting local people doing small things in their areas to try and protect nature locally, and had a discussion about how they could best respond as a Meeting and as individuals.