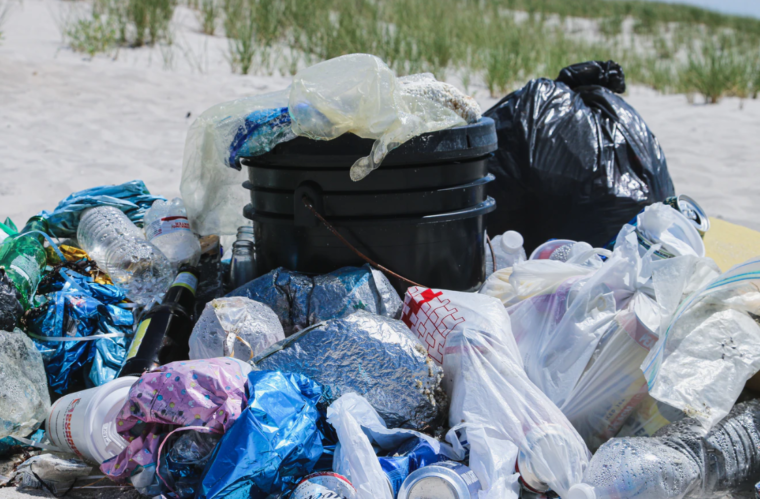 Plastic – something to give up for Lent – and for good!
Ireland is the top producer of plastic waste in Europe, generating an average of 61kg per person, almost double what the UK produces, according to Mr Kevin O'Sullivan, Environment and Science Editor of The Irish Times (Saturday, 21st April 2018). It is probably not surprising therefore that 83% of Dublin Bay Prawns have ingested microplastics!
Like those prawns, our lives are intimately associated with plastics. However, unlike those prawns, we often have choices in whether to buy plastic or not. Ash Wednesday, later this month, begins Lent, a time of reflection and renewal. Here is a day-by-day guide to going plastic-free for Lent – and for good!
Ash Wednesday Feb 26: Use loose leaf tea, or ensure tea bags are plastic-free.
Feb. 27: Give up single-use cups and plastic bottles.
Feb. 28: Use re-useable bags when shopping.
Feb. 29: Buy fruit and vegetables loose.
Sunday, 1st March: REFLECTION – Psalm 104: 25-30, 'Yonder is the sea, great and wide,' :- By 2050 it is estimated that there will be more plastic than fish, by weight, in the sea worldwide.
Mar. 2: Grow some fruit & veg this spring to reduce food miles and plastic use.
Mar. 3: Buy bread wrapped in paper, not plastic.
Mar. 4: Leave plastic and other excessive packaging at your supermarket till, (some have designated containers).
Mar. 5: Start a conversation about microplastics entering the sea and agree a response.
Mar. 6: Buy bathroom products in bulk to refill smaller dispensing containers.
Mar. 7: Avoid products containing micro-beads, such as 'polyethylene'.
Sunday, 8th March: REFLECTION – Isaiah 24: 4-5, 'The earth lies polluted under its inhabitants':- See www.ecocongregationireland.com for ideas to inspire!
Mar. 9: Use bar soap instead of liquid hand soap.
Mar. 10: Have old clothes repaired or altered to avoid disposal.
Mar. 11: Buy clothing second-hand.
Mar. 12: Choose natural fibres (organic if possible) as synthetic fibres cause micro-fibre plastic pollution when washed.
Mar. 13: If you can, invest in long-life quality clothing.
Mar. 14: If you love clothes, but don't like waste, then check out www.getswishing.com.
Sunday, 15th March: REFLECTION – Job 28: 12-13, 'But where can wisdom be found?':- The more we learn about God's creation, the humbler we become.
Mar. 16: Cook from scratch and take your own sandwiches when you go out.
Mar. 17: Avoid wet-wipes, they contain plastic and clog sewers.
Mar. 18: Look around you and see what plastics you can replace over time.
Mar. 19: If you must buy a plastic item, try to get it second-hand. See www.freecycle.org or www.jumbletown.ie or www.trashnothing.com.
Mar. 20: Use glass or stainless steel containers for food storage, even for the freezer.
Mar. 21: Share unwanted food. See www.olioex.com, also available as an app.
Sunday 22nd March: REFLECTION – Psalm 24: 1-2, 'The earth is the Lord's':- Some say we borrow Earth from our children – in fact we borrow it from God!
Mar. 23: If you must buy online, request zero plastic packaging.
Mar. 24: Borrow CD/DVD's from a library, or download. Avoid acquiring plastic.
Mar. 25: Avoid plastic pens & giveaways. Use a fountain pen or pencil instead.
Mar. 26: Bring your own toiletries when travelling. Skip hotel 'free' toiletries.
Mar. 27: Treat yourself to an ice-cream cone, a packaging free confectionery!
Mar. 28: Skip frozen convenience foods which rely on plastic packaging.
Sunday 29th March: REFLECTION – Micah 6: 8, 'What does the Lord require of you but to do justice, & to love kindness & to walk humbly with your God?':- The saying 'justice delayed is justice denied' challenges this warming world.
Mar. 30: If you have a local farmers' market, support it bringing your own bag.
Mar. 31: Bring your own containers to shop for meat and prepared foods.
Apr. 1: Choose milk in returnable glass bottles, where possible.
Apr. 2: Buy a wheel of unwrapped cheese and divide it with friends. See www.myplasticfreelife.com for tips on storing cheese.
Apr. 3: Choose wine bottled in glass with natural cork stoppers.
Apr. 4: Get together with friends to bulk buy.
Palm Sunday 5th April: REFLECTION – Colossians 1: 16-17, 'for in him all in heaven and on earth were created,':- Jesus Christ reconciles all creation, including you and me, with God, giving us a pattern to live by, all together.
Apr. 6: If you chew gum, choose one not made of plastic, if you can find any!
Apr. 7: Clean surfaces with a vinegar/water mix (1:3). Store in old spray bottles.
Apr. 8: Check online for many uses for baking soda, eg. scouring, dish washing.
Apr. 9: Use solid shaving soap instead of canned shaving cream.
Apr. 10: Choose toilet paper not wrapped in plastic. See www.thenaturalcompanyireland.com.
Apr. 11: Repair things when they break.
Easter Sunday 12th April: REFLECTION – John 20: 15-16, 'Supposing him to be the gardener, she said to him, 'Sir, if you have carried him away,'… Jesus said to her, 'Mary!' – He is risen with healing in his wings, alleluia! May we be active in his healing ministry to 'sustain and renew the life of the Earth', (5th Anglican Mark of Mission).
Sources: www.churchofengland.org/environment www.myplasticfreelife.com