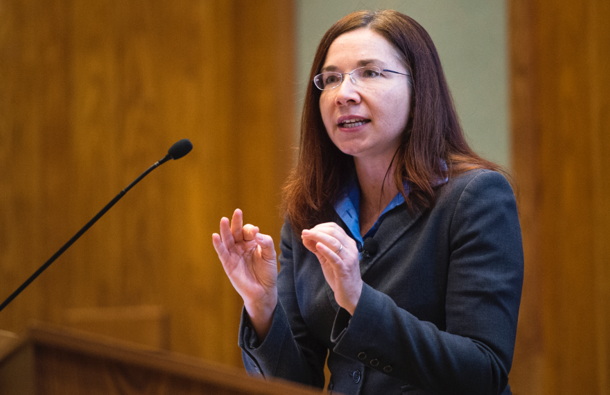 Prof. Katharine Hayhoe, a climate scientist and a leading science communicator, will be touring Ireland to deliver secular and faith-based talks on the topic of climate change. Katharine is a professor in the Department of Political Science, a director of the Climate Center, and an associate in the Public Health program of the Graduate School of Biomedical Sciences at Texas Tech University. A remarkable communicator about climate change (as in her widely viewed TED talk, for example), she is also an impassioned advocate for Christian engagement with climate.
Katharine has received numerous and diverse accolades for her work in communicating the science of climate change. Among others, she has been named to Time Magazine's 100 Most Influential People (2014), Foreign Policy's 100 Leading Thinkers (2014 & 2019), Huffington Post's 20 Climate Champions (2015), and FORTUNE magazine's World's Greatest Leaders (2017). She was named a United Nation's Champion of the Earth (2019) and one of Christianity Today's 50 Women to Watch (2012). Her talks are listed below. For more information please contact the relevant organisation.
Following today's (12 March) Government Directive, Katharine Hayhoe's Maynooth Lecture is cancelled. More information here >> https://www.cis.org.uk/ireland/walton/
Monday 9th March
University College Cork
5.00 – 6.00 pm – Mitigate, Adapt, or Suffer
De Vere Hall, Student Centre, UCC.
Event is free, but please register via Eventbrite: http://bit.ly/388OmtR.
8.00pm – 9.00pm – Christians, Climate, and our Culture around the World, Walton Lecture, https://www.cis.org.uk/ireland/walton/,
Boole 1 Lecture theatre, Main Campus, UCC.
No preregistration is required for the Walton lecture.
Wednesday 11th March
Queens University Belfast
10:00am – 12:00pm, Katharine to give an academic seminar in the School of Geography.
6.00pm – Co-Sponsored Church of Ireland Theological Lecture and Religious Studies Forum public lecture, Talking climate: Why facts are not enough https://www.thehubbelfast.org/theological-lecture-2020/
Thursday 12th March
Morning – Research Scholar Workshop – with Katharine and academic staff from QUB.
6:30pm-8.00pm – Trinity College Dublin Long Room Hub
Friday 13th of March
11.00am-12:30pm, Neill/Hoey Lecture Theatre in the Trinity Long Room Hub Institute for Arts and the Humanities, Talking Climate: Why Facts are Not Enough, https://www.eventbrite.com/e/talking-climate-why-facts-are-not-enough-dr-katharine-hayhoe-tickets-86967083889
Maynooth, 7:00pm – Climate Change: Facts, Fictions, and our Faith, for the Walton Lecture in Maynooth, https://www.cis.org.uk/ireland/walton/