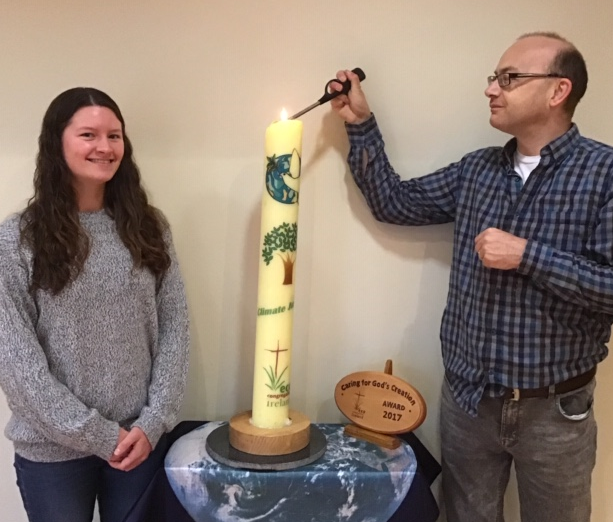 For the 18th Annual Spring Conference at Drumalis guests from all over Ireland made an emotional journey from lament to hope for the planet. Andy Lester of A Rocha UK first painted the sobering picture of where we currently stand with climate change, biodiversity loss and political justice. There is light in the darkness as people wake up and act, the passion of today's young people a source of hope for many and ultimately God's restorative power.
Drumalis officially launched its partnership with A Rocha UK after the arrival of Emma Johnston as Conservation Intern in January. They were also joined by Helen of DAERA, John, Keira and Roselea from XRNI, Dr Johnston McMaster, who is currently leading a public theology course at Drumalis, and Darren Houston, founder and organiser of Ballynature Day Each of these shared their own experience of hope on a local level. Thanks were expressed to all involved in making this a challenging and inspiring weekend.
The photograph above shows the lighting of the Eco-Congregation Ireland Climate Justice Candle by Emma and Andy. Having been diligently transported by Joe Furphy of ECI, the candle served as a reminder to all, of the global impact of climate change especially on the most vulnerable aspects of life on the planet.
The photo below shows Andy Atkins presenting the "Environmental Certificate of Achievement" from A Rocha to Sisters Anna and Margaret Rose on behalf of Drumalis. This presentation marks the launch of the new partnership: two groups uniting in partnership for the sake of caring for God's Creation.