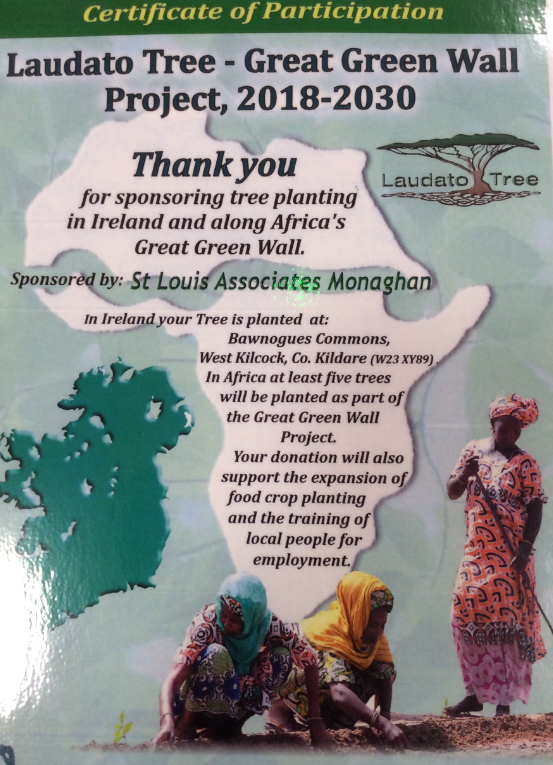 During last September, in the Monaghan Group of St Louis Associates they celebrated Season of Creation 2019, by actively participating in the Laudato Tree Project. Season of Creation began on September 1st and ended October 4th, the Feast of St. Francis. The suggested theme for 2019 was The Web of Life. They felt morally challenged by the fact that one million species are threatened by our lifestyle.
The Laudato Tree Project is an initiative of the Society of African Missions.  The title Laudato Tree refers to Pope Francis' Laudato Si, Encyclical on the environment and human ecology.  The project encourages the planting of native trees in Ireland in partnership with the Tree Council of Ireland and in Africa by supporting The Great Green Wall initiative of the UN Convention to Combat Desertification, which aims to combat the spread of deserts in Africa.
The Great Green Wall Project aims to plant an 8,000km wall of trees right across the width of the continent of Africa, from west to east, south of the Sahara Desert. The African trees that the St Louis Associates sponsored were planted on the border between Ghana and Burkina Faso and their native Irish trees were planted in Co. Kildare. A donation of €60 sponsors the planting of at least five trees in Africa and one tree in Ireland as well as enabling the training of local people in Africa for sustainable business and employment. Five million hectares of land has already been restored in Nigeria through the UN Great Green Wall Project.
An African proverb inspired the St Louis Associates throughout this project with the words,
The Earth is not a gift from our parents, it is a loan from our children.
You can see their thank you certificate above.
More information from:
Mr Gerry Forde, Justice Office, SMA, Wilton, Cork T12 KR23