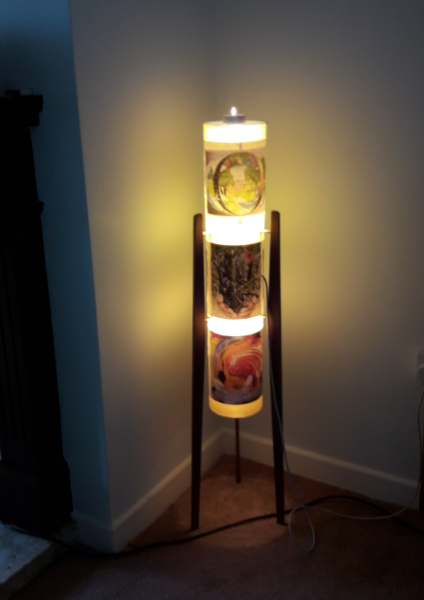 Mel Greene (Holy Rosary Sister) sent ECI this reflection on the Season of Creation 2020:
Pope Francis' call to celebrate a Year of Jubilee for the Earth from June 2020 – June 2021 was an invitation to all of us to remember our Planet and enter into New Rhythms  which would in turn birth  New Hope.  With energy and enthusiasm we decided to begin preparations for the Month of Creation well in advance of September.  The plan was simple but needed effort and creativity. One could say that it was a month rooted in the reality of Earth and  characterised  by expectant joy, gratitude and hope. The child (the joy of life), the evolutionary ( vision and possibility) and the crone (wisdom of the golden years) were engaged in each one of us.
Our focus was first of all on nature that surrounds us. We then considered what indoor visual displays would remind us of the season and lastly a weekly prayer that would help us pray with creation, so full of God. Age and energy necessitated that our prepared community prayer would be held indoors. But we were not confined to prayer in the house; each person's relationship with surrounding nature was nurtured by frequent visits to the outdoors during our beautiful summer weather, not forgetting the gifts of wind and rain given us occasionally. Indoors, the Laudato Si board, which is used to keep us in tune with the changing seasons, was covered with cosmic and nature images which were accompanied by relevant quotes from the Mystics. This was surely inspirational for us as we passed and paused for prayer. For the Chapel, a very original "Laudato Si Candle" was created from a long lamp (that came from Killeshandra) and richly decorated on the outside with computer-sourced images of the Cosmos.
For our weekly community prayer, we searched Google and YouTube and availed of the many resources available. These were plentiful so we chopped and changed and mixed and matched until we had the bones of our Creation Prayers and rituals on paper. Our first Prayer focused on the beauty of Creation surrounding us. It was an immersion experience and it opened us to a felt experience of our Mother Earth. It was an invitation to be reflective, to let go and allow the impulse of evolution to lead us further into the great Mystery. Our second week prayer was different in that we chose to pray the "Laudato Si Chaplet" based on St. Francis' Canticle of Creation. It drew in the Four Elements, fire, water, wind, and earth. We spent time sitting still, reflecting on how deeply each element is part of us and indeed of the whole of life.
The next weekly prayer focused on our place in the Creation Plan, our responsibility for our beautiful world which we are sadly destroying. For our Ritual we collected the tiny acorns from the oak tree (its first year to produce) and distributed them to all present. Then we planted one as a symbol of New Life which always nurtures Hope and Gratitude. Juliana of Norwich was our inspiration for this.
The 4th Saturday of September we gathered to celebrate the presence of God in Creation and the Hope with which we are always filled as we gaze on the beauty of the Earth. It was a meditative time. As a sign of our Hope we had a short Ritual of Light. The lighting of each of our eight small candles from our Laudato Si candle, was accompanied by a short prayer for the needs of our times. Our choice of music was very reflective and it awakened us to our kinship with the Native American people. Their videos provided chants, music and beautiful images that opened us to the deep reality of Earth and the unity of all.
We began this prayer by taking a little time to ground and centre ourselves in an "I experience" by going within. Entering the "I space" helped us to move with the prayer into the collective presence of the "group space" where we were invited to allow the flow of earth's energy and the power of the Spirit to surround and fill us. In this "we experience "we surrendered to both word and song which enfolded us. Our final hymn/song was a Native American Prayer: "Mother I feel You Under my Feet". Sourced in You Tube this song or chant is accompanied by a mandala which is a kaleidoscope of ever changing colour. It is an invitation to contemplate the myriad faces of God in all of creation and it makes easy the process of tuning in to the rhythms of the Universe.
Our 5th and final week drew us back to Pope Francis' document Laudato Si which had provided so much inspiration for the previous four weeks. St. Francis was our companion for this final lap of the Season. We remembered and prayed once again the beautiful words of "The Canticle" where he calls Earth our Sister, our Mother, and we "touched the Earth with gentleness". We together blessed all the animals in absentia and remembered all plant and fruit life.
Our final prayer was a commitment; we renewed our covenant with God and with one another in Christ Jesus. We committed ourselves to healing injustice and poverty and to love and protect all God's Creation. With gratitude that our eyes and ears had been opened during this Season, we pledged to listen to the music of the universe. As we go forward more deeply aware of our evolutionary call to commit ourselves to be co-creators and alive to the Great Work we remember the words from Revelations 21:5, "Behold I make all things new."