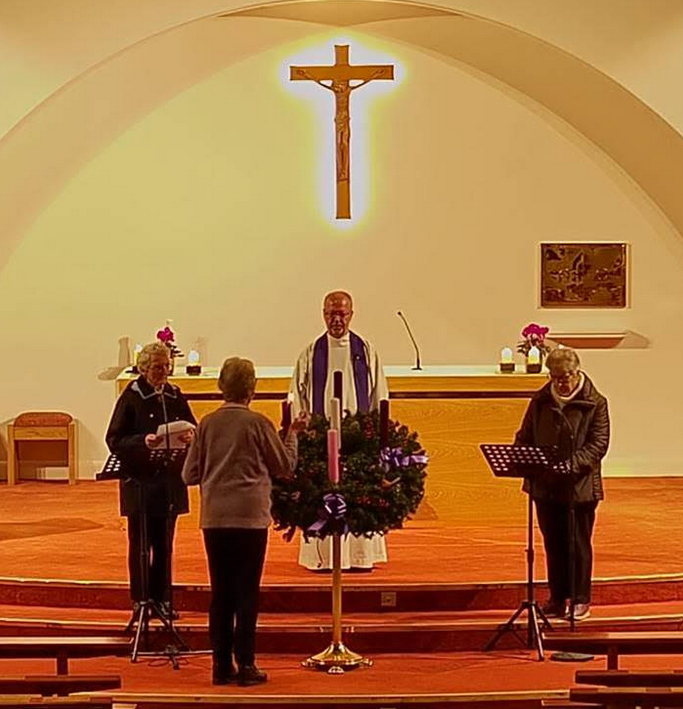 Fr Joe Jones reports: There was great rejoicing when St Joseph's PPC gathered for its November meeting via zoom. That evening Catherine Brennan SSL informed the parish that they are now recognised by Eco-Congregation Ireland as an Eco-Congregation parish. The idea of becoming an eco-aware parish began very simply with two Cs – cowslips and conviction. Saving the cowslips from the blades of the lawnmower led to cordoning off a small area in front of St Joseph's Family Centre. The conviction that the loss of biodiversity is one of the greatest threats to our natural environment inspired parishioners to plant a wildflower garden and seek advice on how to establish a sensory garden in the long-neglected space at the back of the Centre.
Then the question arose: How do we go about becoming an Eco-Congregation? Fortunately, some members were already familiar with the framework and encouragement of ECI in pursuing this goal. Having presented the idea to the PPC, Care for the Earth was embraced as a parish ministry. A small group of interested people came together, and the journey began. As the work progressed, the parish submitted reports to Eco-Congregation Ireland as a result of which the ECI Awareness and Endeavour Certificates were achieved. Next, the parish began to work towards the final goal, that of receiving the Eco-Congregation Ireland Award. A report, detailing all efforts, was finally submitted for assessment, the happy outcome of which is that St Joseph the Artisan Parish has now received their Eco-Congregation Ireland Award!
It was with great joy and gratitude that parishioners listened to the first three sentences of their citation being read aloud, "Heartiest congratulations to each of you on the amazing work you have done in the parish in a very short time. The accessors recommend your parish very highly for the Eco Congregation Award". In a sense, this is only the beginning of the journey. All that has been achieved so far needs to be maintained and developed. This parish is committed to making this happen, despite COVID 19 lockdowns. They will continue to take small significant steps, seeking to become ever more aware of suffering humanity and our suffering earth. Due to COVID 19 restrictions the award will not be presented in the parish for a few months, probably well into 2021. You can watch the Advent Service in Bonnybrook here >> https://www.bonnybrookparish.ie/tv/ where they adapted the prayer suggestions from the Laudato Si Working Group of the Council for Catechetics below for use in the blessing of their parish advent wreath. Congratulations to all!