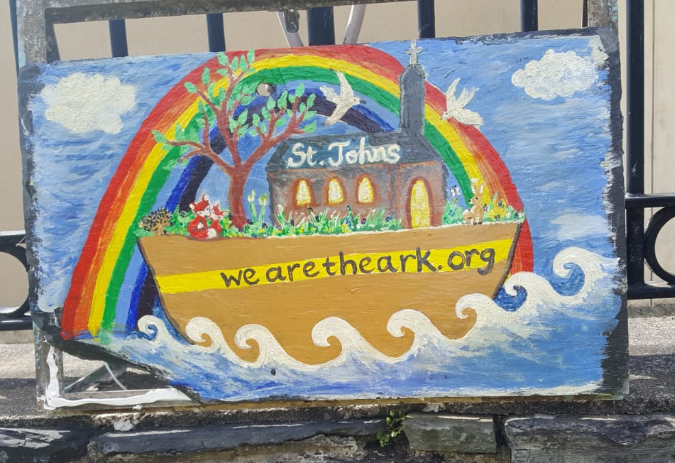 Sylvia Thompson sent ECI this update:
JPIC Diocese of Kerry and St John's Tralee
Care of Creation and the promotion of the urgent message of Laudato Si' remain a priority for us. At present we have invited all parishes to nominate a contact person so that we can create a diocesan network of interested people as a step towards parish based 'Care of Creation' groups. Such a network will offer support, sharing of ideas and actions and even the opportunities for visits, sharing seeds and plants etc.
This, we hope, will help to 'embed' the celebration of the Season of Creation as an integral part of the parish calendar and caring for 'our common home 'as part of parish life in general.
St John's Ark, Castle Street, Tralee
The parish has an active Care of Creation group and on Earth Day (22 April) blessed the new sign to launch its ARK. This is a small area set aside for biodiversity which saw the planting of a Rowan tree during the Season of Creation 2020, followed by the addition of snowdrop, crocus, and bluebell bulbs. The idea for the ARK came from Paddy Daly the parish pastoral worker. Read all about this initiative by Mary Reynolds in https://wearetheark.org/
It includes all and more of what we had already planned, making it an area rich in biodiversity with a variety of habitats. So far ferns, foxgloves and oxeye daisies have been added and a small woodpile and of course the Managed for Wildlife (All-Ireland Pollinator Plan) sign…next step is a small pond. The group also had an excellent window display in their Hub window for Laudato Si' Week, to which was added a candle and prayer for Gaza.
All things ae connected.