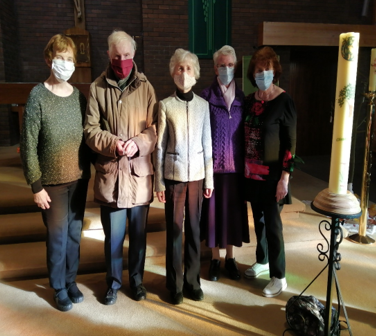 Geraldine Murphy sent ECI this update:
During Season of Creation, the Justice & Peace Group made an effort to highlight the need to change our ways as individuals and as parish, in order to protect our wonderful planet Earth.
Fr. John Sinnott, PP, spoke about Creation and Biodiversity; prayers for creation were spoken from the altar and were included in our parish newsletter.
Each Wednesday, at the 10am Mass, a member of our Justice & Peace group read the Laudato Si Prayer for the Earth.
On Sunday, 3rd October, we invited Justin Kilcullen from the neighbouring Shankill Parish, which has received a Gold Award from Eco-Congregation Ireland, to speak to us about biodiversity and our Christian duty, not option, to care for the Earth. 
We offered pollinator-friendly Muscari (Grape Hyacinth) and Allium bulbs to all parishioners leaving the church after the three Masses on 3rd October. We asked them to plant these in their gardens or window boxes, etc.  We will also plant some on our church grounds.
On Wednesday, 6th October, we had a small gathering of six parishioners, plus Fr. John, as a follow on from Justin Kilcullen's excellent talk. We will visit Shankill's group called SAGE, (Shankill Action for a Green Earth.) and hope to learn from their experiences in order to become an Eco parish. We also spoke of starting a Laudato Si study group and of linking in with the parish schools, residents' associations, Dun Laoghaire Co. Council and others.