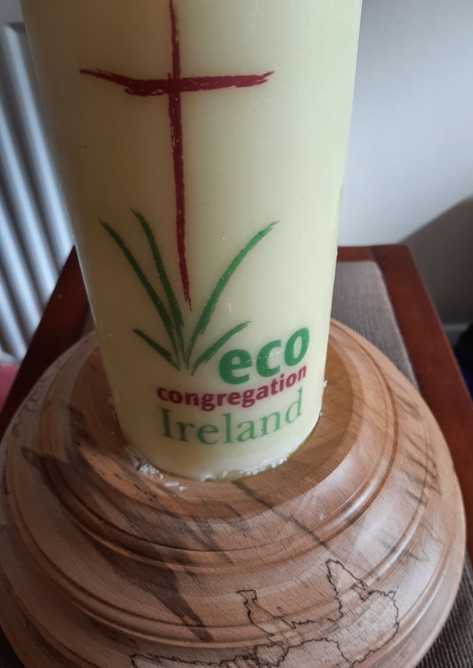 Dr Finola Cunnane, SSL sent ECI this report:
The Climate Justice Candle continues its pilgrimage around Ireland and on Tuesday, March 29th, 2022, graced the Annual Conference of the St. Louis Schools' Network with its presence. In the wake of COP26 and the focus of world leaders on Climate Action and Climate Justice, the St. Louis Schools' Network concentrated on and developed this theme throughout the school communities during the current academic year.
Comprising 10 schools on the island of Ireland, the St. Louis Schools' Network promotes Jesus' dream of Sint Unum outlined in the Gospel of John – 'that we may all be one'. This St. Louis motto is alive and active in the 10 schools dotted around Ireland –
St. Louis Grammar School, Ballymena, Co. Antrim
St. Genevieve's High School, Belfast
St. Louis Grammar School, Kilkeel, Co. Down
St. Louis Secondary School, Carrickmacross, Co. Monaghan
St. Louis Secondary School, Monaghan Town
St. Louis Secondary School, Dundalk, Co. Louth
St. Louis Community School, Kiltimagh, Co. Mayo
St. Louis Highschool, Rathmines, Dublin 6
Blakestown Community School, Dublin 15
Ramsgrange Community School, Ramsgrange, New Ross, Co. Wexford
The St. Louis motto of Sint Unum finds expression in Global Citizenship Education (GCE) which is an educational process aimed at increasing awareness and understanding of the rapidly changing, interdependent and unequal world in which we live. Through their curricular and extra-curricular activities, students and teachers are shown how to become Global Citizens who take action to transform the world into a better place, a place that honours the dignity of every human person and the gift of all creation.
On March 29th, almost 200 students and their teachers from the above schools met on Zoom for their Annual Network Day. Four of the schools presented film documentaries of some of their work this year on Climate Action and Tree Planting. The morning was facilitated by Patsy Toland, a retired teacher and a Global Citizenship Education Facilitator living in Inisowen, Co. Donegal and Lizzy Noone and Sinead Hayes from WorldWise Global Schools. WorldWise Global Schools (WWGS) is the national Global Citizenship Education Programme for Post-Primary Schools. Funded by Irish Aid, WWGS is a one-stop shop for funding, resources, support and guidance for post-primary schools engaging in Global Citizenship Education.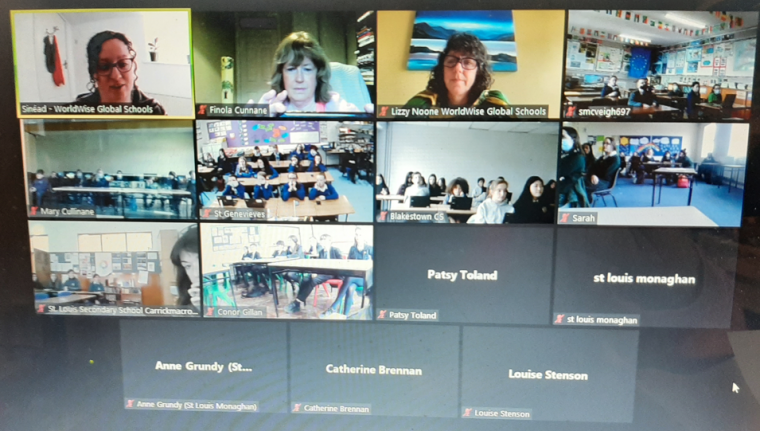 Following the Welcome, Introductions and Outline of the morning, Sinead, from WWGS, set the scene by giving an overview of how Climate Justice is related to Trees and how we can take this a step further. Looking at the root causes of everything, WWGS explores how we might effect change and take meaningful action for our planet, its people and all of creation.
In-between speakers, the morning was punctuated by both a mentimeter quiz on Climate Action and the four documentaries/films compiled by four of our schools. The mentimeter quiz was compiled by Lizzy, from WWGS. Lizzy engaged students by offering 4 quiz questions at 4 different times throughout the morning.
Our first guest speaker was Joanne Butler who works in North-West Donegal on her own farm called OURganics.  Joanne is passionate about what we grow, how we grow, the impact on the planet and the impact on us in terms of quality food.  Later in the morning, we had John and Eamonn Coyne who run Wells for Zoe, an amazing project running in Malawi for the past 20 years.  Their focus is on Climate Justice, Trees and the role of women and community within that.  They illustrated the unique ways in which they have tackled the climate issues in that country.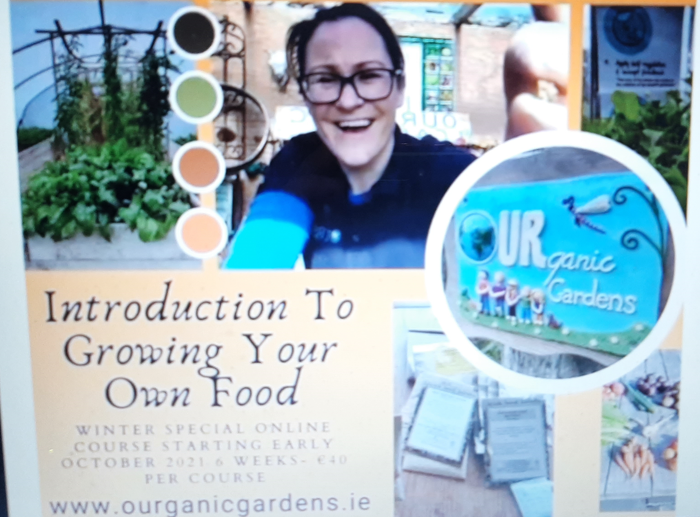 Throughout our wonderful morning, the Climate Justice Candle burned in the background shining a light on our work and shining a light on Climate Justice. A huge 'thank you' to Eco-Congregation for making this candle available to us – to Catherine Brennan, SSL, who came up with the marvelous idea that the Climate Justice Candle might accompany us and burn brightly through our Conference – and to Fran Brady who travelled all the way to Rathfarnham to deliver and collect this beautiful candle. We greatly appreciate this and applaud the wonderful work you are doing helping churches make the link between environmental issues and Christian faith.