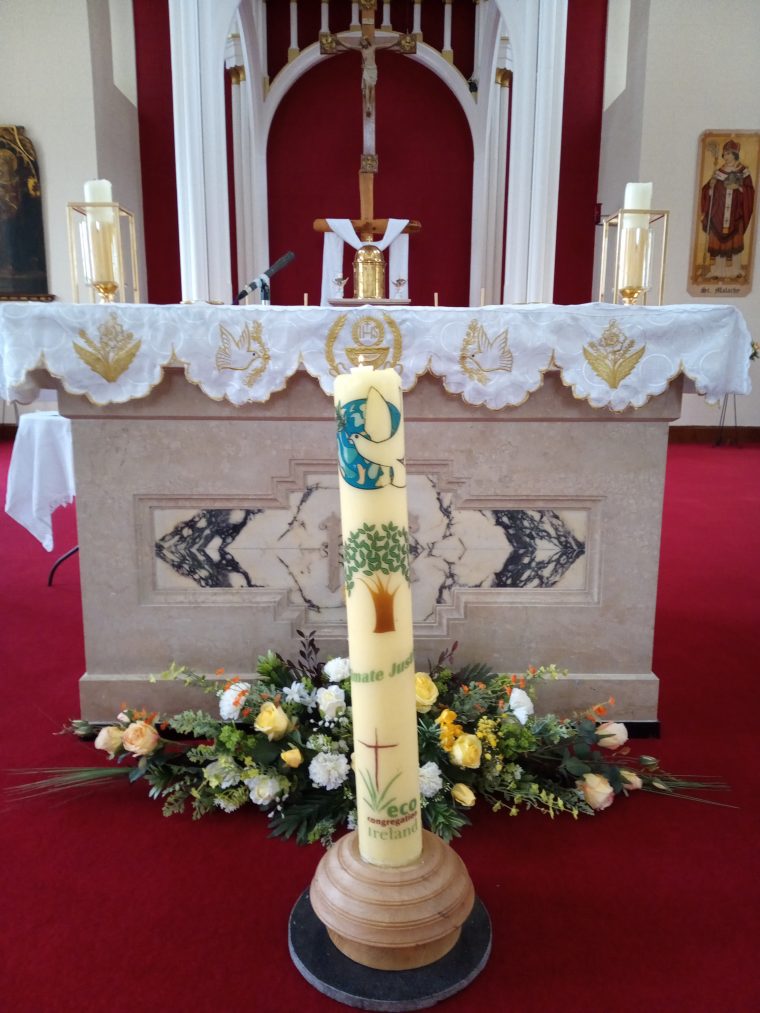 John Boyle sent us this update:
On the 13th April, parishioners in St Malachy's Coleraine co-founded an ecological group with members of other nearby parishes. We named the group Anam Glas, which is Gaeilge for 'Green Soul'. The group was set up so that our environmental projects might also incorporate other parishes, thus having a broader effect, and also with the hope of expanding the membership of Eco-Congregation Ireland in the North.
On Sunday 15th May, we displayed the ECI Climate Justice Candle in our church during Mass. This coincided with us, as a parish, taking part in the Big Plastic Count by Greenpeace & Everyday Plastic. The Big Plastic Count ran from 16th-22nd May with participants recording the number of various types of plastics they used during that week. Participation in the count seems to have been fairly high, and the candle was highly appreciated by the parishioners of St Malachy's. We are grateful to Eco-Congregation Ireland for granting us the honour of hosting the candle in our church.
On Sunday 22nd May we launched a flyer with 9 tips to cut carbon emissions which we distributed among parishioners as they left the church after Mass. We intend to follow this project up with weekly/monthly bulletin notices which will expand on each tip with additional ideas.
Going forward, we intend on growing the membership of Anam Glas, planting a woodland on a portion of unused land within the parish grounds, and encouraging neighbouring parishes to get involved with Eco-Congregation Ireland.