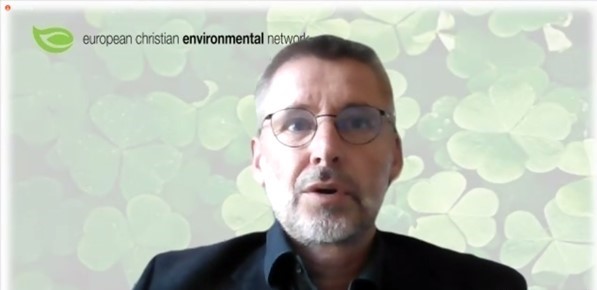 Shankill Action for a Green Earth (SAGE) , an initiative of Shankill Parish in South Co. Dublin, has won a prestigious European Churches Environmental Award for its work. SAGE has been an Eco-Congregation for many years and has recently been awarded our Gold Award.
At the recent virtual meeting of the European Christian Environmental Network (ECEN), SAGE was the joint winner of the Roman Juriga award for the best Christian environmental project across the entire continent. ECEN consists of hundreds of churches with millions of members from Catholic, Protestant and Orthodox traditions, and the Roman Juriga award is presented at the assembly every two years.
The judges were impressed by SAGE's actions in a wide range of areas, promoting bio diversity, reducing their carbon footprint in the church buildings, and engaging politically by holding debates with local politicians on Climate change and environmental protection. They also highlighted the way in which environmental concerns were included in the liturgy, especially around the Season of Creation.
The award is named in memory of Roman Juriga, one of the founding members of ECEN and a Christian leader who worked tirelessly with his church and with partners across Europe to develop new and exciting green initiatives.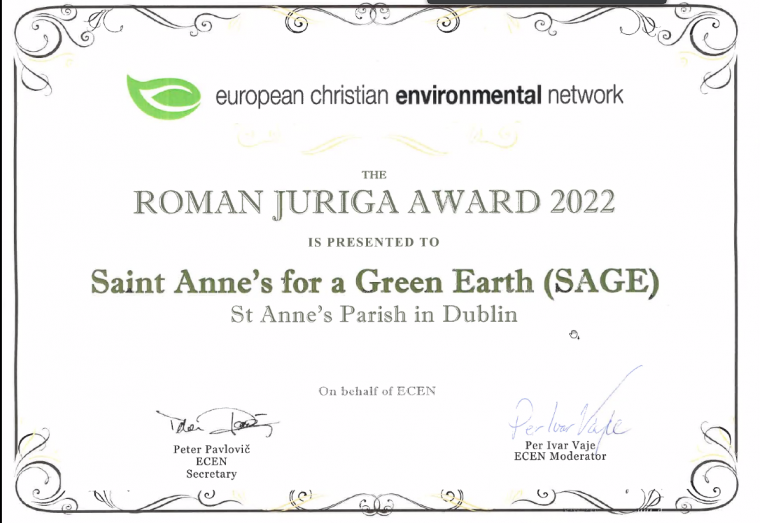 Justin Kilcullen, one of the leaders of SAGE Said "We thank Catherine Brennan from Eco-Congregation Ireland, who knew Roman well, for all her mentoring and support to us over the years".
Canon Andrew Orr from ECI said "we are delighted that the hard work of SAGE has been recognised in becoming the first Irish winner of this prestigious award. We in ECI are delighted to have supported them along their journey".
The Archbishop of Dublin will present both the ECI Gold Award and the Roman Juriga award in person on Sunday 19th June.