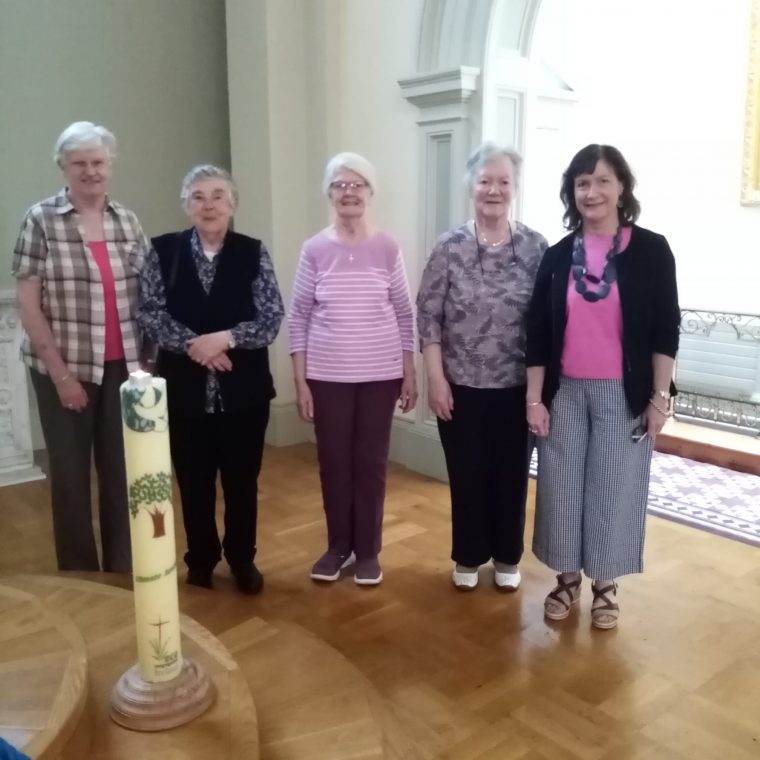 Elizabeth MacNeal sent us this report of the candle visit:
Mercy International Centre in Dublin hosted the ECI Climate Justice Candle on two separate occasions in May and June to raise awareness about our connectedness with Earth. In May, the candle was central to our prayer space as we hosted virtual meetings with the Mercy Global Action Ocean's Committee. Mercy Global Action is MIA's justice arm with offices at the United Nations in New York City, USA.
The ocean's committee met multiple times to reflect and plan how to celebrate both World Oceans Day on June 8 and the UN World Oceans Conference. The candle helped inspire the team to create an ocean's prayer service (available here) and an internationally focused campaign on the ocean. The campaign will run in tandem with the United Nations Ocean Conference in Lisbon from June 27 – July 1 2022. This campaign urges each of us to reflect on and take action for the health and sustainability of the world's oceans. A Mercy Oceans Campaign toolkit is available for download here.
The candle again returned to us here at MIC in June. This time to light the path for an in-person Eco-Spirituality Retreat. Some of the participants are featured with the candle in the photo above taken at the Chapel in MIC. The candle was a steady reminder to each of us on this retreat of our constant connection to the earth. Here at MIC, we feel a special connection to the 8th Work of Mercy and are mindful to seek new ways to deepen our connection with creation. The candle was also visited by multiple groups who entered the Centre during these weeks including several large school groups, many tours who learned about the life and legacy of Catherine McAuley, and those stopping into our chapel space to light a candle and pray. We truly felt blessed to be carers of the ECI Climate Justice Candle and remain ever committed to being good stewards of our earth.