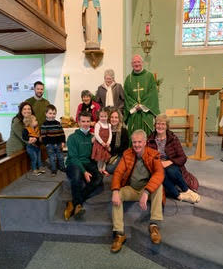 Fr Con Boyle PP & Eleanor Duff – Chair of Carey Community Care for Nature Group sent us this update:
This small rural church in the barony of Carey in North Antrim, is one of the oldest churches in the Diocese of Down and Connor. We were delighted to be able to host the candle for the last two Sundays of the Church's year and during COP27 to shine a light on climate justice in our parish.
The themes in the liturgy from the Word of God on these Sundays enabled us to make the links to creation, culminating on the Solemnity of Jesus Christ, King of the Universe. The homilies and intercessory prayers focussed on our Christian response to the climate crisis, highlighting how our lifestyles impact on the people of the global South, who cause least harm to the environment and yet suffer most through floods, drought and famine.
The presence of the candle and other materials on the display boards within the church, caught the attention of the parishioners and the imagination of some of the younger members.
Earlier this year the Carey Community Care for Nature Group was set up to help raise awareness and encourage local action.