There are many stories about how the custom of bringing an evergreen tree for Christmas into our homes and churches first began.
THE FIRST CHRISTMAS TREE
One good story relates to St Boniface who was martyred in the year 754. He was a Benedictine monk, who was a helper of the aged St Willibrord, Apostle of Frisia, (who spent 12 years in our own diocese in Leighlin). One cold December night, Boniface was walking through a wood and came across a group of people about to kill a boy who they had tied to an oak tree as a ritual sacrifice. Boniface was horrified. In a rage he rescued the boy, took an axe and chopped down the oak tree.
When the tree crashed down, Boniface noticed, growing among its roots, a small fir tree. From now on, 'Boniface told them, 'this tree will be a holy emblem. It is a sign of peace, for we build our homes from its wood; it is a sign of life eternal, for its leaves are always green; and, because it points to heaven, it will be a symbol of the Christ-child, who points us towards our loving heavenly Father'.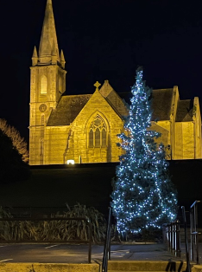 HOW CHRISTMAS TREE GROWING BEGAN IN IRELAND
Wexford man, Nicholas Sweetman, Chairperson of the of Irish Forest Owners organisation, explained that Christmas trees only became popular in Ireland from the 1940's. These were often the young trees taken as thinnings from Norway Spruce commercial forestry. Nowadays, about 200,000 Irish grown Christmas trees are exported annually to the U.K., France and Germany.
ENJOYING A VISIT TO A CHRISTMAS TREE FARM
I recently visited Tommy Kidd at his very welcoming, child friendly, Christmas Tree Farm. Tommy has over 12 acres planted with trees including Korean Fir, Noble Fir, Scots Pine, Nordmann Fir, Norway Spruce, Lodgepole Pine, Douglas Fir, as well as oak and beech. His beautiful site overlooks the Slaney Valley and the Blackstairs Mountains, just outside the town of Bunclody, Co. Wexford.*
Tommy and his family have worked hard to make the visitor experience an enjoyable one, providing a 1 km forest walk, with quirky informative notices, as well as benches, a scenic sheltered viewing point as well as bird and bat boxes.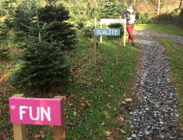 WHAT ARE THE MOST POPULAR CHRISTMAS TREES?
About two-thirds of Christmas trees bought from Tommy are Noble Fir, with most others being Nordmann Fir, a popular Christmas tree on mainland Europe.
HOW LONG DOES IT TAKE TO GROW A CHRISTMAS TREE?
Young trees are planted out when they are a foot high. They grow on for 8 to 10 years. Trees are generally cut when they are 7 to 10 feet high, depending on the customer's requirements.
DO THE TREES REQUIRE MUCH ATTENTION WHEN THEY ARE GROWING?
Initially, undergrowth has to be controlled. Some growers use weedkiller, others graze the undergrowth with Shropshire sheep which conveniently don't nibble young fir trees! Some graze around their trees with geese.
Then trees need encouragement to put on denser growth. This means pruning to ensure a good shape. If the girth is becoming too wide, then side buds are pinched out.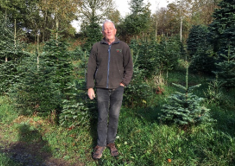 HOW DO YOU REPLANT AFTER TREES ARE CUT?
Young fir trees can generally be planted just beside an old stump. Eventually the stump rots away to return organic matter to the soil. Growing trees soak up carbon dioxide. The soil is also a valuable carbon store if we can avoid turning it over.
DOES THE CHRISTMAS TREE FARM SUPPORT MUCH BIODIVERSITY?
Aside from good soil life, the forest at Ballyrankin has its resident population of rabbits and foxes. Bats also forage among the trees and along the nearby Slaney River, and we hear and see many species of birds, bees and butterflies.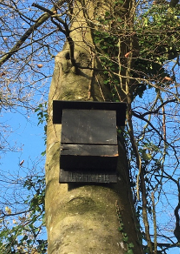 WHAT SHOULD WE DO WITH OUR CHRISTMAS TREES AFTER CHRISTMAS?
Each local authority provides collection points for post-Christmas trees which are then chipped for mulch. Alternatively, the branches can be removed and used to 'carpet' muddy footpaths. The remaining trunk can then be sawed up as firewood and the resulting ash added to the compost heap.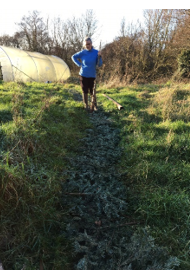 BEANNACHTAÍ NA NOLLAG – PEACE AND GOODWILL TO ALL GOD'S CREATION!
*Kidd's Christmas Farm, Ballyrankin, Bunclody, Enniscorthy, Co. Wexford, Y21 KX 71. Ph: 087 1305353. Follow on Facebook.