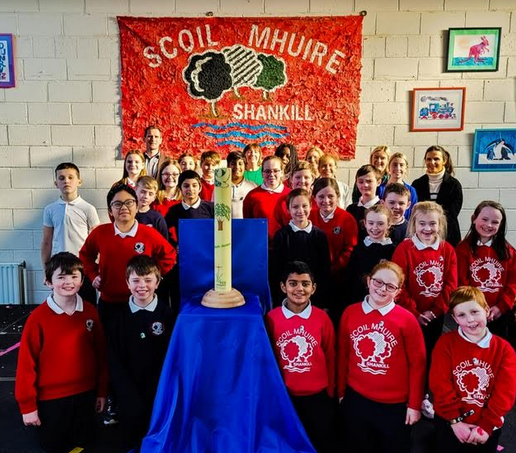 Kathie and Patrick Davey sent this report:
St Anne's Church, Shankill,  had the honour of hosting the ECI Climate Justice Candle in the second half of January. We took this opportunity to share it with the three Primary Schools in the village, Rathmichael C of I NS and St. Anne's and Scoil Mhuire Catholic schools. They were all delighted to be offered this chance and used it in their classes and assemblies.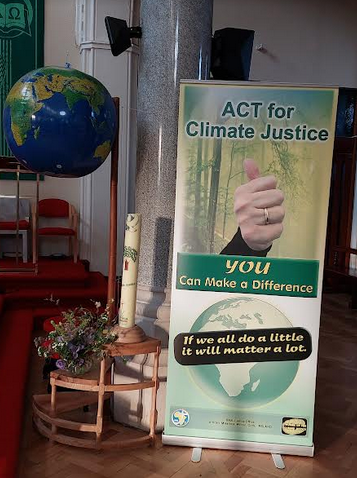 The children from St Anne's and Scoil Mhuire also took part in the Sunday Family Mass, bringing the lighted candle up in procession and reading the prayers of intercession at the Offertory.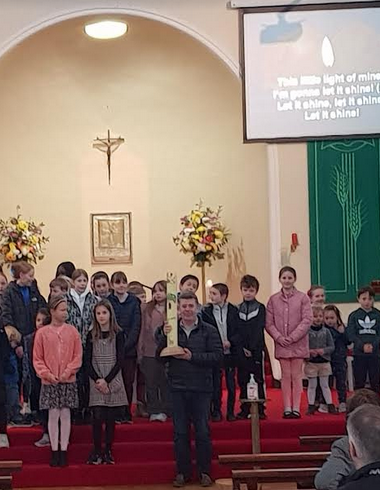 At the end of Mass Justin Kilcullen, founder member of SAGE (Shankill Action for a Green Earth) and retired CEO of Trocaire, summed up the message of the Candle as "Live simply so others may Simply Live".
After the morning Masses, members of SAGE gave out sprigs of rosemary and bay leaves with copies of this pledge :
I pledge myself to live responsibly and use only my fair share of the Earth's resources. I will try to live simply so that others may simply live,  to redress the injustice of climate change.
There was a good atmosphere of "Buy-in" from the congregation to the meaning of the candle. and an element of "pleased surprise" to the free herbs!!