Update from An Tairseach by Colette Kane OP:
A visit from members of ECI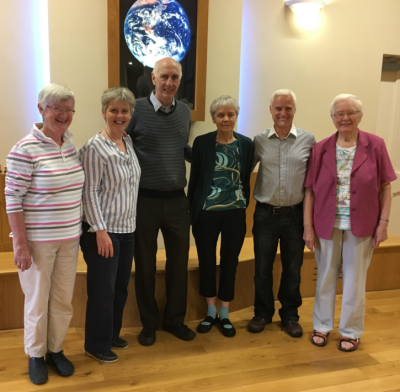 On 6th July members of the Eco-Congregation Ireland visited An Tairseach, Dominican Farm and Ecology Centre, Wicklow town. They came to see the work of the Centre and Farm. As many of you know An Tairseach is a Centre for ecology and spirituality and it is an organic farm on 71 acres of land. Much of the land is in fact set aside for conservation with a variety of habitats including: hedgerows, pond, woodland and wetland. The Centre is a beautiful place to come for a day's reflection, a course or a parish outing. There are also seventeen ensuite and (some) self-catering rooms for personal or group retreats. After it opened in 2005 the Centre won an award from SEAI for its efforts at sustainable living, using biomass boiler, solar panels and the harvesting of rainwater. See http://www.ecocentrewicklow.ie for more information or phone Kate on 0404 61833.
Pictured: Srs Margaret Purcell, Colette Kane, Fr. Hugh O'Donnell, Sr. Catherine Brennan (ECI) Mr Dean Eaton (Dun Laoghaire Rathdown Co Council) Sr. Marian O Sullivan
Recent Events Summer School  "Knowing our place – from stardust to sand"
In the second week of July, Sr. Colette Kane OP directed a Summer School for Teachers on the Integrity of Creation. The course was called "Knowing our place – from stardust to sand".  Participants heard about the story of our 13.7 billion years old universe; explored the woodlands; sat on 'sit-spots' enjoying smells and sounds of summer meadows; discussed  how to take steps towards a low carbon future; enjoyed a variety of educational activities. They were immersed in the "An Tairseach experience" which they described as beautiful, serene, holistic, inclusive and prayerful. This is what some of the participants had to say: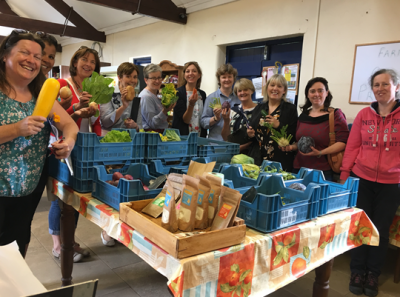 "The content and delivery of this week's course was of immeasurable benefit and outstanding quality! The mindful eating of the beautifully prepared organic dishes brought the elements explored during learning sessions full circle."
"This course was fantastic – very informative and thought-provoking. I feel it has empowered me to deliver the message re environmental awareness and care and the importance of caring for our planet to the children I teach."
For the Diary
Shine a light on Climate Justice – 14th September 2017
Join us in An Tairseach for a day's reflection on Climate Justice – can we change, must we change, will we change? Mr Raoul Empey of Sustineo will facilitate the day. Sustineo is an agency that facilitates individuals, companies, schools, Parishes and others understand how they can move towards a low carbon future. For more information email Kate on info@ecocentrewicklow.ie or call the Centre on 0404 61833.
Creation, Evolution and Faith – 26 -29 September
An Tairseach will host a three and half day course with the renowned author and speaker Dr. John Feehan. A botanist, geologist and some would say mystic, John will challenge us to think about what God is asking of us in an evolving universe. At the same time you will never look at a 'weed' again in the same way, guaranteed.  John's profound insights into the beauty and wonder of the natural world have led him to become passionate about our responsibility as humans to care for our common home. He has written extensively on the natural and cultural heritage of the Irish landscape and on many broader aspects of environmental science and is a renowned environmental communicator. His book "The Singing Heart of The World" (Columba Press) and his more recent unpublished "Creation, Evolution and Faith: Reflections on the Presence of God in Creation" are hugely significant for anyone interested in exploring the nascent field of eco-spirituality, and in responding to Pope Francis' calls for dialogue between science and religion and for ecological conversion.