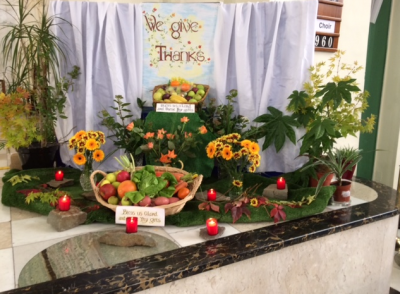 Report from the Faith in Action Group, Ballineaspaig Parish, Cork:
What a wonderful summer we have had, especially in the Cork area, with warmth, enough rain, great growth, beautiful colour – and now a bountiful harvest: golden grainfields, and an abundance of garden fruits and vegetables, as well as blackberries, sloes, hips and haws, crab apples – and above all – Peace.
We experience the wonder of all of this especially when we see the appalling conditions in other places – floods in Donegal, wars and migration farther afield, with hurricanes, tornadoes, floods, earthquakes… We have so much to be grateful for at this Creation Time.
To celebrate, we threw ourselves with full hearts into our Harvest Thanksgiving and Sharing Celebration on Sunday 24th September.  Our Thanksgiving Mass at 10.30am. celebrated the gifts of creation through specially selected prayers, music and a shrine symbolizing the abundance of the earth.
Coupled with this was our outdoor Harvest Sharing following the 10.30 and 12.15 Masses.  Everyone was invited to Bring and Buy: to bring some of their harvest from garden or kitchen, or produce from the seeds which were distributed in J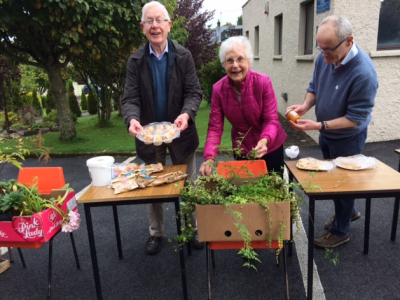 une, or some local produce, and to buy some produce to take home.
Our parishioners responded by bringing an abundance of their produce, from baby tomatoes to giant marrows, fruits, plants, jams, chutneys, cakes and breads.  And people bought generously too, resulting in a total of €1,131 being raised for our sister parish in Turkwell, Kenya, where they have so little.
The weather was warm with hints of sunshine, so everyone was happy to linger over a cup of Fairtrade tea or coffee and chat with fellow parishioners, neighbours and friends. All in all, a wonderful community effort, greatly enjoyed by all!