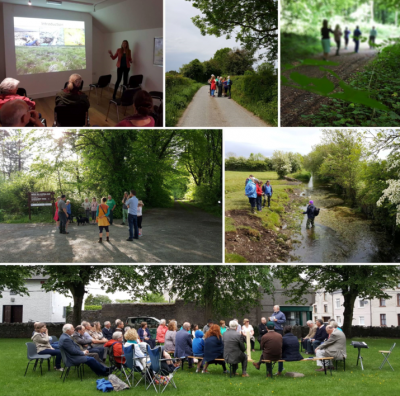 Cloughjordan Community Development Committee held the annual Cloughjordan Biodiversity Week Festival in May, with events including the biodiversity of the Ballyfinboy River, Greenhouse gas emissions in re-wetted peatland forests and Rewilding, Rural Regeneration & Eco-Tourism Nature on the Farm.
There was also an Evening Bog Walk  at Scohaboy Bog with Lorcan Scott , District Conservation Officer, NPWS, as well as 'Mindfulness in the Woods', a 30 minute guided exercise for all ages with Jean Finn in Knockanacree Woodlands and a Guided 'Forest Therapy' Walk.
The week culminated with a Community Eco-Service held at the St Kieran's Church Green on the 28th of May. This was an ecumenical gathering with local Churches, to close Biodiversity Week and celebrate Creation in the natural world around us.  The service included the ECI Climate Justice Candle. The candle was hosted by St. Michael's & St. John's Church.  Cloughjordan Community Development Committee wishes to thank Revd. Shannon De Laureal and Fr. Ger Jones for sharing in the service.
They also wish to thank the organiser of the week Mr Gearoid Ofoighil for inviting the churches to be part of the week, as we all recognise our responsibility to both care for and nurture the environment of which we are a part. The Biodiversity week reminded everyone of the importance of our environment that surrounds us and provides our life-support system – the air we breathe, the water we drink and the soil that grows our plants and crops.