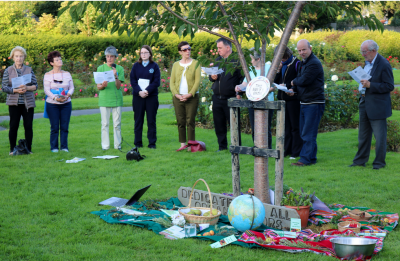 Sylvia Thompson wrote this report on the gathering in Tralee Town Park, Co Kerry on September 1st – World Day of Prayer for the Care of Creation and the first day of the Season of Creation.  There are lots of beautiful photos available to view on the Diocese of Kerry website.
We gathered on a beautiful sunny evening in Tralee Town Park around a specially decorated space, with colourful cloths from Peru, fruit grown locally: damsons blackberries, apples, a jug of water from the nearby fountain and about 65 people of different ages including a young poet, a pastors from the local catholic and Church of Ireland parishes both called St John's, a musician, Mike with his flute and one dog or maybe more!
Our prayer service drew on the Pope Francis' letter Laudato Si' and readers included representatives from Tralee Tidy Towns, Kerry Astronomy Club and the Diocese of Kerry JPIC Committee. Alison Ward, the young poet (aged 14) from nearby Castleisland shared her prizewinning poem 'Unravelled Lives' written in response to rising sea levels in Honduras (the theme of the Trócaire Poetry Ireland Competition) How apt, as we were holding in prayer all the victims of floods and storms all over the world.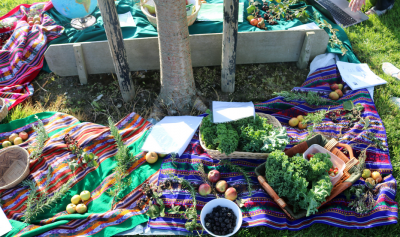 And of course we sang and had a gentle movement guided by Bernie on each refrain of the beautiful song 'Touch the Earth with Gentleness' (Kathy Sherman)
Refrain: Touch the Earth with gentleness
Touch the earth with love
Touch her with the future
by the way you live today
God has given us the power
to create the world anew
If we touch the earth
together, me and you.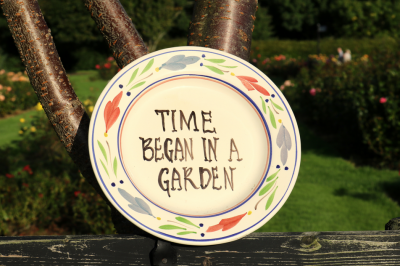 We had gathered in the spirit outlined in the joint statement of Pope Francis and Ecumenical Patriarch Bartholomew for September 1st. "Indeed, an objective of our prayer is to change the way we perceive the world in order to change the way we relate to the world. The goal of our promise is to be courageous in embracing greater simplicity and solidarity in our lives" (bold is mine).
And so we closed with an invitation to sign the Laudato Si pledge at www.livelaudatosi.org and to consider making a commitment, with a variety of examples given on the back of the leaflet.
It was a truly moving event made possible by a variety of people but especially by those who came and took part. I hope that these photos give a little taste of the evening. The Prayer Service Leaflet can be accessed here.
Sylvia Thompson, JPIC Committee