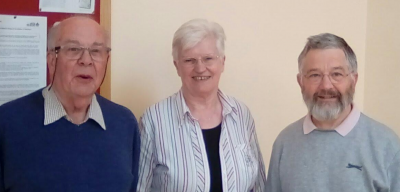 Grace Davin, a member of the Northern Ireland Creation Care Network and a member of Hillsborough Presbyterian Church, provided us with the report below of the latest meeting of the group held on 23 September 2017 in Hillsborough Presbyterian Church.
Present : Sr Nellie McLaughlin (Congregation of the Sisters of Mercy in Donegal), Rev Dr Allen Sleith, Grace Davin, Dorothy Gamble, Michael Francie (Hillsborough Presbyterian),  John O' Boyle (St Michael's Parish), Bertie & Freddie Stirling (Kilbride), Joe Furphy (Lowe Memorial) ,  Sr Margaret Rose (Drumalis), Gale & Helen Moffett (Regent Street), Winnie Mc Call (Fitzroy), Ann & David Ford (2nd Donegore), Tom & Elizabeth Mc Cosh (Strandtown Christian Fellowship)
Apologies :  Rev Richard Kerr (Convener Global Mission Panel), Kerry & Karen Nicholson, Rev Derek Weir,  Kerry & Karen Nicholson (S. Belfast society of Friends),  Ken & Lynn Orr (St John's Newtownbreda), Darren Houston, Stephen Acheson (Abbey, Monkstown),  Bruce Hanna (1st Donegore)
Rev Dr Allen Sleith welcomed the group to Hillsborough Presbyterian Church and opened the meeting with prayer and a short reflection.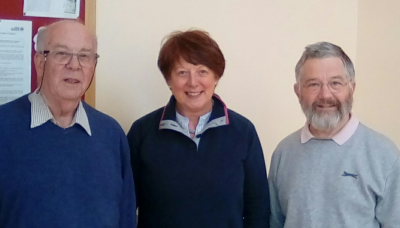 Sr Nellie McLaughlin gave an excellent presentation on Pope Francis' encyclical: Laudato Si, focusing on what and how, we, as individuals and Churches, could, and should, do to be better stewards of Creation.
In small groups we considered the 'root causes' and how these might be addressed.
There was an opportunity for each person to introduce him/her self and share any ideas or challenges from their respective congregation.
Next meeting (provisionally) : Lowe Memorial – March 2018 – Joe to confirm.
Grace closed the meeting using a portion of Pope Francis' prayer from Laudato Si. (p 116)
Summary of Sr Nellie's Presentation: (numbers refer to section of Laudato Si)
Laudato Si is addressed to all people –  we all have a role to play – individuals, churches and communities: all of us joined in a splendid universal communion. The cry of the poor and the cry of the earth are one and the same.
A conversion call : all created by God, all inhabit a common home, but a change of mindset is urgently required.
We are all inter-connected and inter-dependant   (220)
What is happening to our home? Devastation and breakdown of society.
Climate change is the single biggest environmental and social challenge of our time.
But there is hope: the earth has much to teach us about mutual co-operation.
Look at everything as a caress of God (84) – all is gift; all is Holy; all is in communion.
We need to examine the root causes, rather than the symptoms.
Balance and our inner peace is the place to begin (225).
The inner and outer journey needs to be undertaken together (225) – we need to undertake inner climate change too … You can't start to change around you until you make changes in yourself" (Eckhart) …  "Take care of the roots and the flowers will take care of themselves" (Pico Iyer)
Subtle activism: know that every prayer we utter, everything we imagine, think or say has the power to impact the greater good.
Now is the time for a new beginning – 'let us sing as we go'! (244).
Ideas which were shared and which might be of interest to the wider group to follow up:
Harvest celebrations – sharing God's abundance with others
Christian Aid pledge forms can be obtained from CA office in Belfast
Education / Eco-Schools involvement
Become more informed
Grow your own food!
Could Eco-awareness be a part of your working life?
Conference in Drumalis 23/2/18
Organise an event for World Earth Day which falls around April 22nd each year
Join an organisation which promotes aspects of Creation care eg Greenpeace, A Rocha, Green Sod Ireland
Engage in "subtle activism"
Lobby politicians
Keep taking small steps within own congregations
Christian Aid Campaign cards – re: shift away from fossil fuel – available from Belfast office
Encouraging Fair Trade where possible
Community Energy projects
Seeing Environmental issues as a form of mission
Hope that main Churches leadership become more involved and work together on Environmental issues
Recommended reading:
Larry Rasmussen : Earth Community, Earth Ethics  and Earth- Honoring Faith;
Pope Francis' encyclical: Laudato Si;
Nellie McLaughlin: Life's Delicate Balance;
Pico Iyer: The Inner Climate.