Eda Sagarra one of the members of the Ladauto Si Parish Group at Church of the Three Patrons, Rathgar provided ECI with the following report:
The congregation of the Church of the Three Patrons Rathgar was privileged to host the ECI Climate Justice Candle on 22nd September and we held a double celebration during the weekend of 24th/25th September 2017.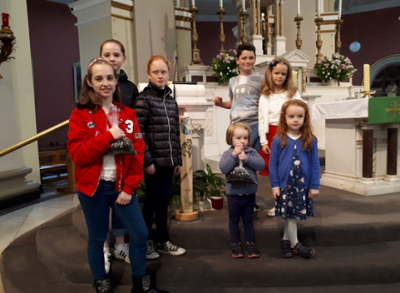 For the Sunday Family Mass at which the Candle was a focal point, our pastoral worker Jackie Hearne prepared a beautifully written and illustrated Children's Newsletter, explaining its symbolic and catechetical role, and advising the children (and their parents) of the part they might play in responding to Pope Francis' urgent call for the care of the earth.
The children sang and grouped around the Candle during and at the end of Mass, and a child from each family took home a bag, made of corn starch, containing peat-free compost and two crocus bulbs to plant as their small but special contribution to make the earth a lovelier place. Afterwards the children enjoyed palm-oil-free biscuits.
The photo above shows some of the fifty children who took part (photograph published by permission of the children's parents).
Our second celebration on Monday evening was an Interfaith Service of Prayer and Reflection, designed by Sr Catherine Brennan SSL of Eco-Congregation Ireland and members of the Three Patrons Laudato Sí group. The Service was introduced by our parish chaplain Fr Michael Commane OP and led by Fr Kieran O'Mahony OSA.
Representatives of our sister parishes and congregations in the Rathgar-Terenure Fellowship, viz. Zion Church of Ireland (Rev Stephen Farrell), Methodist Church (Rev Vanessa Wyse-Jackson), Christ Church Presbyterian (Rev Purvis Campbell), Society of Friends Churchtown (Janice Johnston), together with the Dublin Progressive Jewish Congregation (Katherine Stafford), and members of our own congregation gave readings from the Old and New Testaments, including a midrash, a Jewish commentary on Ecclesiastes and from poems by Mary Oliver and Drew Dillinger. Special features of the liturgy were the moments of silence and the very moving violin laments played by Sr Pauline Johnson SSL. Each member of the congregation was asked to make their personal commitment to change some aspect of their mode of living in the coming year to promote the care for God's creation.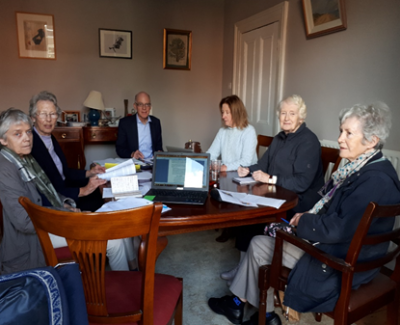 Planning committee