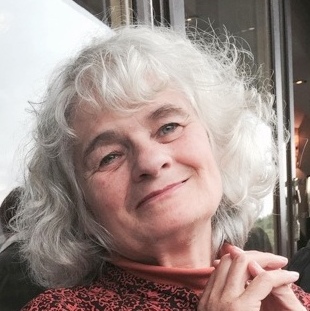 Fran Brady who is the Quaker representative on the Eco-Congregation Ireland committee, gave a talk to visitors to Eustace Street Quaker Meeting House, Temple Bar, Dublin on Culture Night.  She spoke about the work and vision of EcoQuakers. Below is the text of her talk.
Eco-Quakers Ireland originated in 2008 when a concern was brought by two Members to Yearly Meeting under the title 'Caring for Creation – what canst thou do?'
These Friends were encouraged to take the concern further. Seventeen Quakers from around Ireland held a Meeting on 17th May 2008 and from this the Eco-Quakers Ireland Committee was born.
The purpose of Eco Quakers Ireland committee is to:
Enable Quakers to have an input into environmental problems, as well as related social and economic problems;
To encourage Quakers to become informed and more confident about taking action on these issues;
To connect with similar initiatives in other Yearly Meetings and like-minded organisations.
Long before Eco-Quakers were heard off – precisely 315 years before in 1693 – Quaker William Penn said "It would go a long way to caution and direct people in their use of the world, that they were better studied and knowing in the Creation of it."
Nowadays to ensure Quakers are informed various booklets, pamphlets and articles have been made available. The bi-monthly Friendly Word, for example, reserves two pages in each issue for articles on sustainability and environmental justice.
Only recently Roscrea Quaker Meeting prepared a pamphlet entitled Promoting Sustainability as part of their sustainability plan.
The World Quaker Gathering in Peru, in January 2016, called on Quakers to live out the changes needed to sustain the Earth as home to all mankind and the natural world.
As a response to that call Quaker Meetings in Ireland were asked by Yearly Meeting to carry out three recommendations:
Firstly to develop sustainability plans, no matter now simple;
Secondly to ethically invest all funds in sustainable and peaceful companies, and divest from destructive industries, including fossil fuels;
Thirdly to relate our sustainability actions to our Quaker testimonies – peace, simplicity, truth and equality.
As supporters of Quaker Meetings, in their efforts to live peacefully and sustainably, Eco-Quakers compiled a booklet entitled Responding to IYM 2016: Living sustainably and fairly on this earth (free to download at www.quakers.ie).
It was specifically designed to help Meetings draw up sustainability plans.
During this past year twenty out of twenty-eight Quaker Meetings prepared a wide variety of sustainability plans. The variety showed the diversity of circumstances experienced across Meetings.
Some Meeting Houses have outdoor grounds that can be used to boost biodiversity, grow food, herbs or fruit trees, support bees and provide protection to hedgehogs.
Urban Meeting Houses rarely have the luxury of surrounding grounds but their Members are usually better placed to use public transport.
Meetings with historic properties, like this one (Eustace Street Meeting House), are constrained by preservation orders in what changes they can make. Meetings who borrow or rent premises are also constrained in this matter. The variety of experiences goes on – perhaps reflecting how it is for the general population.
Eco-Quakers believe that care for the environment is an integral part of the Quaker tradition and links closely with the Quaker testimonies of peace, simplicity, truth and equality.
As Quakers, we are called to work for a peaceful Kingdom of God on earth.  We recognise a moral duty to cherish Creation for future generations and, in the here and now, to ensure that the poorest and most vulnerable people do not suffer as a result of our actions.
Statistics from the Intergovernmental Panel on Climate Change IPCC show that rising sea levels will wipe out more cultivated land in Bangladesh than anywhere in the world.
Yet Bangladesh has the one of the smallest ecological Footprints in the world.
The ecological footprint is measured in terms of the area of productive land and water needed to produce our food, and to produce other goods consumed, and assimilate wastes generated.
Mindful of the values of Equality, Simplicity, Justice and Peace which are Quaker Testimonies it should follow that Quakers are natural environmentalists.
Richhill Meeting's sustainability plan was grounded in a spiritual vein. In line with Quaker testimonies of equality, peace and justice and the practice of answering that of God in everyone, Richhill's report called for a transformation of the economic and political system. The report also called for an end to the misuse of the Earth's resources. Misuse of the earth's resources creates inequality, destroys community, affects health and well-being and leads to war.
Eco-Quakers' connections with other like-minded organisations have been positive. They are affiliated to Eco-Congregation Ireland which encourages churches of all denominations to take an eco-approach to worship, lifestyle, property and finance, community outreach and interaction with the developing world.
Through Eco-Congregation Ireland Eco Quakers are associated with Stop Climate Chaos a coalition of civil society organisations campaigning to ensure Ireland plays its part in preventing runaway climate change. There are 12 organisations in the Stop Climate Change coalition Birdwatch, An Taisce, Christian Aid, Cyclist.ie, Eco-Congregation, Feasta, Friends of the Earth, Fossil Free TCD, Good Energies Alliance, Jesuit Centre for Faith and Justice, Tearfund and Trócaire.
Eco-Quakers Ireland made a submission on fracking to the Joint Oireachtas Committee in January.
In August they made a submission to the Citizens' Assembly on the topic: How Can the State Make Ireland a Leader in Tackling Climate Change?
Our next most immediate initiative is to seriously pursue divestment of Quaker Funds from destructive industries, including fossil fuels and invest in sustainable and peaceful companies.