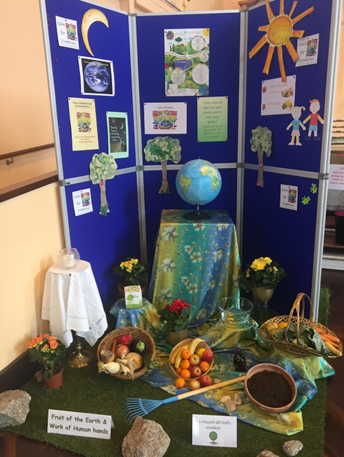 Sr Philomena from the Church of the Most Precious Blood, Cabra West Parish sent ECI this report. The photo to the right shows the parish display inside the Church during Creation Time 2018 – the display is added to during the month >>
During the year we continue to be conscious of God's creation and highlighting awareness of caring for the earth. Throughout the year, we include the care of creation in the Prayer of the Faithful on Sundays, weekdays and when celebrating First Holy Communion and Confirmation and School Masses.
During the month of September each year we create a Sacred Space in the Church.   We have an item in the Parish Newsletter each week and we try to have a 'creation' hymn during our Sunday Masses.  See our website. We have the blessing of pets on the last Sunday of September after Mass. This year the Parish 'Cell' groups held a harvest thanksgiving service during their September meeting. You can visit the ecology/creation page of the Cabra West Parish website here.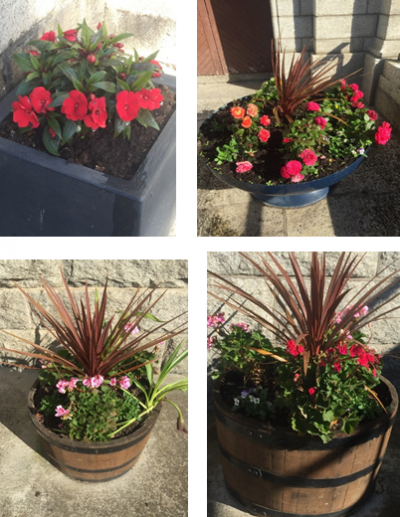 Flower Beds outside the Church are lovingly cared for by Bernie & Bridie. These flower bed change with the seasons. We have just finished the beautiful display of summer plants.

Bernie & Bridie busy at work 

Fr. John Joe Spring's back garden! Lots of vegetables and fruits were sown and eaten from this garden!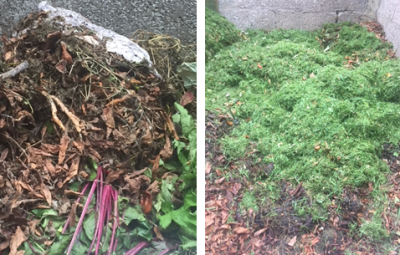 A natural compost area in the garden

The area at the back of the houses which was overgrown and  disrespected! It continues to be cared for …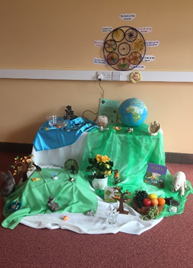 St. Catherine's Senior Primary School is very active in Green Schools. This is the Sacred Space in their Prayer Room for Creation Time 2018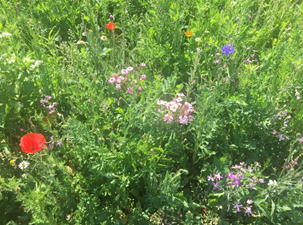 The residents' environmental group with the help of the council allocated three sections of the green area on Drumcliffe Road, Cabra for Biodiversity Summer 2017 and 2018