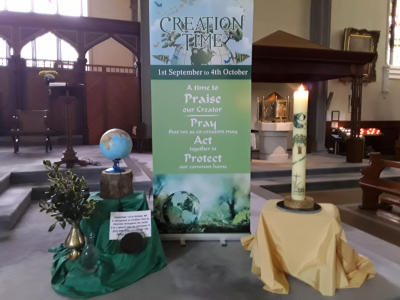 The Eco-Congregation Ireland Climate Justice Candle visited Tuam Parish as part of their Creation Time events.  It provided the focus of a beautiful Children's mass on Saturday evening, the parents and organisers of which, do a great job all year.
Fr. Pat Farragher's homily on Care for Creation was inspirational as were those he did on Sunday morning at the other masses. Focusing again on the Candle at 12.30 mass Fr. Francis Mitchell pointed out that caring about climate justice was not an aspiration but a Christian duty, echoing Pope Francis' message in 'Laudato Si'.
After mass some of the congregation then accompanied the Climate Justice Candle to St. Mary's Cathedral and joined their congregation in a short Ecumenical event.
On Monday morning the Presentation College transition year girls and St. Jarlath's College first year students used the visit of the Candle as an opportunity to pray for the environment.
Tuam Tidy Towns also paused to reflect on the importance of their work in the protection of biodiversity and creation.
Tuam Eco-Congregation applaud the concept of the Climate Justice Candle and all involved in it's travels throughout Ireland and have had great feed back from it's visit to Tuam.