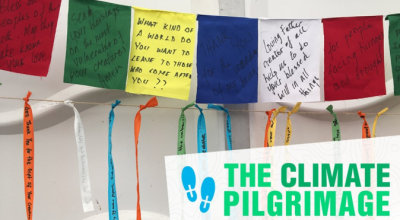 Follow Jane Mellett's journey on The Climate Pilgrimage from October 2018 – December 2018, journeying from The Vatican in Rome to Krakow for COP24 (the UN Climate Summit).  See www.climatepilgrimage.com for more details. You can follow Jane's Climate Pilgrimage blog here. Read her latest news below.
The World Meeting of Families event in Dublin in August 2018 had 'Care for Our Common Home' as a core theme running throughout the festival as we sought to bring the message of Laudato Si to pilgrims and a global audience. There were a number of eco-spaces helping to spread that message and one of the most interactive of those was the Laudato Si Prayer Space which was located in the main Prayer Marque in the RDS. This space hosted the Eco-Congregation Ireland Climate Justice Candle at its centre. This Climate Justice Candle has been on tour around Ireland to Christian parishes and community groups since the Paris Climate Agreement in 2015. Pilgrims were able to write a prayer for the earth on ribbons or prayer flags which were hung on the surrounding walls. People sat on cushions having time for reflection, walked around the photo exposition and could sign the Laudato Si pledge if they wished – www.LiveLaudatoSi.org.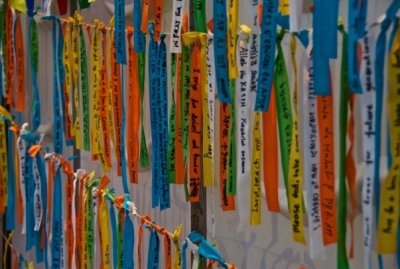 By the end of the week, hundreds of ribbons hung from the walls of the prayer marque, holding powerful messages, a cry for the earth. We wanted to do something special with these ribbons and I am delighted that they are currently en-route from The Vatican to Katowice Poland for the UN Climate Summit (COP24) which takes place in December. The ribbons and prayer flags are being carried on the backpacks of some mighty pilgrims who are walking from Rome to Katowice (1,500km) for climate justice. They left the Vatican on October 4th, the Feast of St. Francis, and carry with them these beautiful prayers from WMOF2018.
This week I leave Dublin to join this Climate Pilgrimage, travelling by ferry and train to Assisi and then on to meet the group in northern Italy. From there we walk 1,000km travelling through Slovenia, Croatia, Slovakia, Austria and into Poland for COP24 in December. The pilgrimage is being organised by a number of organisations including the Global Catholic Climate Movement (GCCM) and Greenpeace to bring a strong message to global leaders about the future of our planet.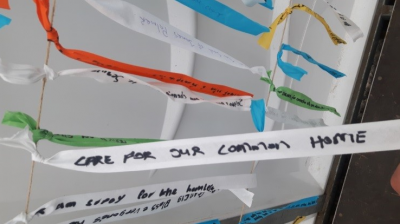 A quote from the pilgrimage website explains our purpose: "Our journey is inspired by Laudato Si', Pope Francis' letter on climate change and ecology. As climate change makes storms rage, deserts grow, and seas rise, people of faith are called to act. We love our neighbours, the most vulnerable above all, and solving climate change is an act of love. Laudato Si' says that we need to "set out on the long path to renewal." You're invited to walk this path by tweeting at leaders, holding a conversation in your community, or even walking the route with us."
When we began the Our Common Home project for the World Meeting of Families in Dublin in 2018, we had no idea of how this project would evolve. There was a real sense of the Spirit guiding us in all sorts of crazy directions. This pilgrimage, for me, has flowed out of that experience. I am honoured to be carrying these prayer flags and ribbons to Katowice and I ask that, if you can, you might walk with us, online, in prayer, in your community, your family, wherever you are. Please encourage your parish, colleagues and friends to go to the website www.climatepilgrimage.com and write a prayer for the earth and a message for COP24. We can all do little things.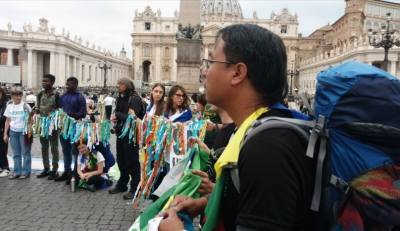 "Let us sing as we go. May our struggles and our concern for this planet never take away the joy of our hope. (Laudato Si, 244).
Website: www.climatepilgrimage.com
Twitter: #theclimatepilgrimage        Facebook: @theclimatepilgrimage
Photo Credits:
Laudato Si Prayer Space WMOF2018 photos (Jane Mellett, Barry Redmond)
Climate Pilgrims at Vatican 4th Oct 2018 (Tomas Insua)