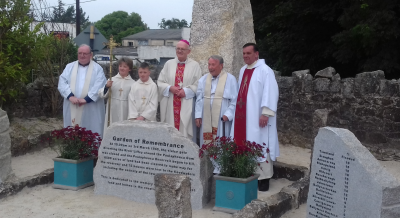 Carmel O'Neill sent ECI this report:
The date 3 March 1940 is a day forever etched in the memory of people living in the Lacken Valleymount area outside Blessington, Co Wicklow. It was on this day that the village of Ballinahown became submerged in water after the construction of a dam at Poulaphouca which led to the creation of the Blessington lakes. Over 6,500 acres were lost and 76 families were uprooted from their homesteads and moved to Kildare.
To mark this unique event in the life of our community it was decided to erect a memory garden in front of a patch of waste ground at the presbytery. Local people volunteered to clear the weeds, donate materials and plant flowers/shrubs around the granite memorial.
On June 23rd Bishop Eamonn Walsh blessed this garden to honour the memory of all who sacrificed what was dearest to them, their place of being. Today people enjoy the many amenities around the Blessington lakes. It is hoped that this memory garden will provide people the opportunity to have time for quiet reflection and contemplation in beautiful surroundings.