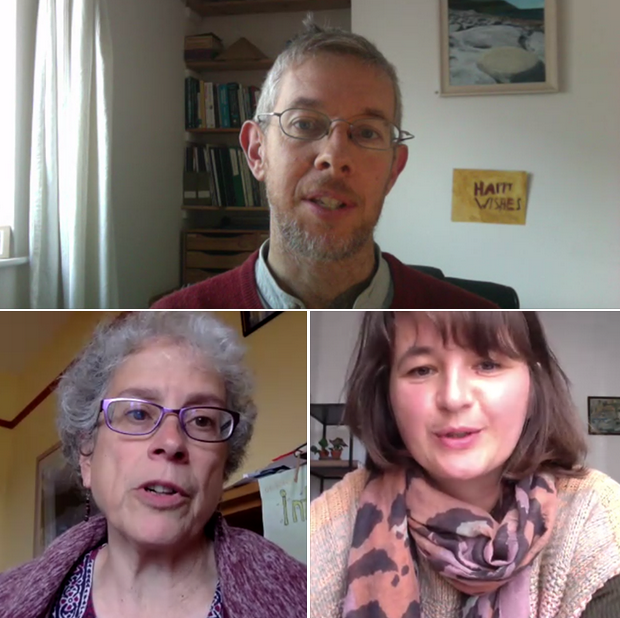 EcoQuakers Ireland held an online event on Saturday 18 July entitled 'Re-imagining Society Sustainably' as we look to rebuild society in the aftermath of the Coronavirus pandemic.
Three interesting speakers addressed the theme, followed by a plenary session. It was a wonderfully stimulating session.
Denise Gabuzda, IYM Clerk and physics and astronomy lecturer at University College Cork, painted a wonderful picture of a more equal society with more renewable energy, more locally grown food, stronger communities, protection of biodiversity and a more peaceful earth. She said imagining a future like this was the first step to it becoming a reality. "As our planet heals, so will we as we appreciate the inter-connectedness of all living things," she said.
Romanian-born and US-raised Oana Sariana Marian, an artist and writer and founder of the Active Hope Network who is pursuing a PhD in Theology at Trinity College Dublin, spoke about the need for climate grief and imagination as we work towards a sustainable future. She also encouraged each of us to self-audit how we spend our money and to educate ourselves about how our society is functioning within the wider global economy.
Féidhlim Harty of Cork and Limerick Quaker Meetings and founder of FH Wetland Systems said there were 5 things we could do to help create a more sustainable future:
– spend our money consciously
– live more simply
– advocate for change
– build and strengthen connections
– remain optimistic and 'hold the vision'
He encouraged us to nurture a clear vision of a beautiful earth and to anchor this in our minds through prayer and meditation.
You can access the speakers' full scripts and view the recording of the event on the Quakers in Ireland website here.