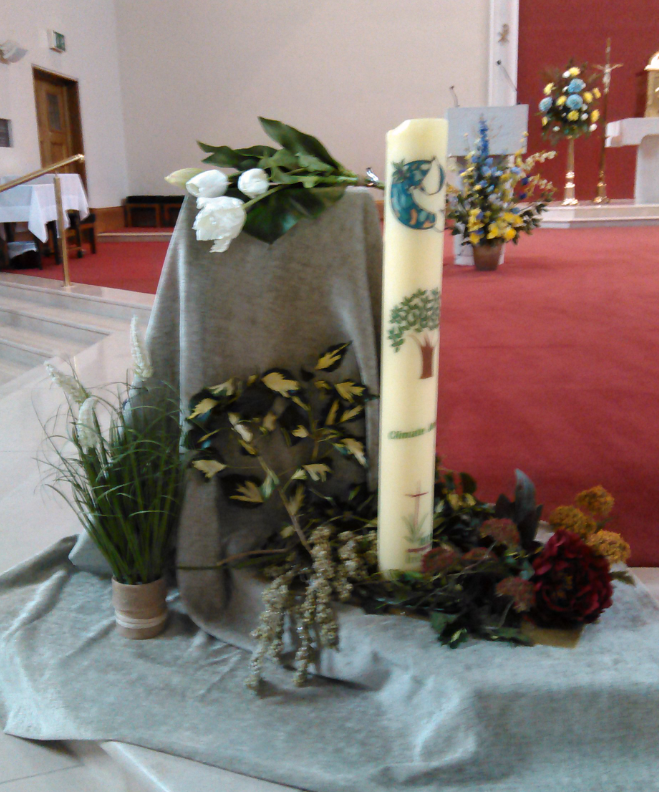 Clodagh O'Reilly sent ECI this update:
Our church was delighted to host the Climate Justice Candle for the month of the "Season of Creation". The Candle was duly lit on September 1st, Pope Francis' " World Day Of Prayer for the Care of Creation". The church's expansive altar easily accommodated the Candle, affording to all a contemplative view of it either in person or online via webcam.
Due to Covid-19 restrictions advising against large congregational or small group gatherings and events, we instead celebrated Creation prayerfully. The Candle provided an inspiring focus for quiet, individual reflection on the beauty and care of our shared Common Home.
Throughout the month a series of "Season of Creation" images and references were to be found in our parish's weekly newsletter, with additional insights related by our Prayers of the Faithful, music ministry, the grounds and meadow, and in our library. In our popular "Faith Space" a display was mounted, which merged visuals with text from Laudato Si's powerful "A Prayer For Our Earth".
The presence of the Candle, a "Season" of reflection, and the task of completing an "Environmental Check-up" of our church have together helped to lead the way in shaping our parish's contribution to ensuring "our planet's resources are shared in a just and respectful manner" (Pope Francis).