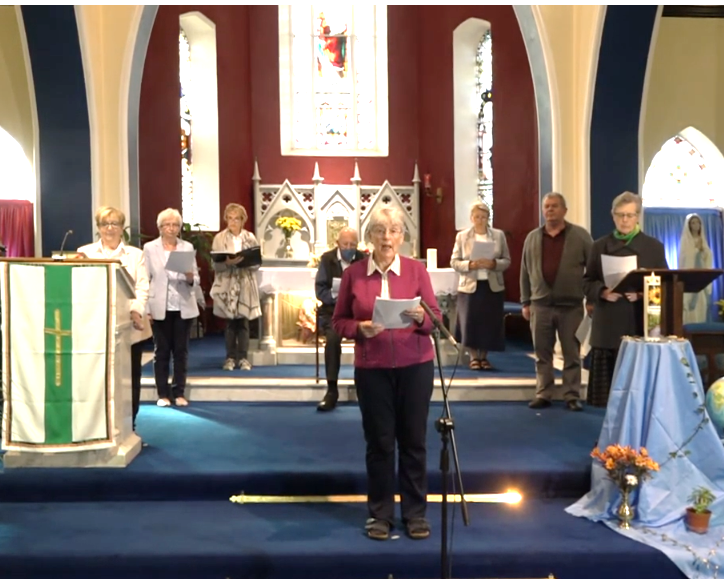 Fr Fergus Tuohy from the Wilton Justice group sent us this update: St. Joseph's Parish Wilton, Cork, was delighted to host the climate justice candle for the season of creation. The candle was lit at the opening service, which had "Cultivating Hope" as its theme. During this service, we took time to reflect on, our beautiful planet earth, our relationship with it, ways we may cease from exploiting it and sow seeds of life-giving hope for its healing and restoration. Throughout the season, our Liturgies echoed the theme of creation, evident in our liturgical music, our readings, our prayers of the faithful, and our communion reflections. Inspiring images with corresponding texts, from Laudato Si. were displayed in our church, awakening us to not only the beauty of creation, but inviting us to respond wholeheartedly to the effects of climate change and to stand with the poor and vulnerable. We committed to small practical actions to care for and protect our common home. Also, we chose to pray for and donate to a vulnerable community in Lodwar, Turkana, impacted negatively by the pandemic. This parish is served by SMA priests and native catechists. To help them combat its impact, our offering will enable them to source PPE equipment.
Our weekly newsletter had short reflections on creation and a call to action. We were challenged to examine our lifestyle, which may be impacting negatively on our environment, and were invited to take practical steps to live more sustainably. Events connected to the season of Creation, were also advertised, among them being, meditations on creation lead by Ber Mulcahy, a video on Pope Francis, and a service on the Harvest Festival. Our SMA priests in the parish, were involved in raising awareness round the Season of Creation, and in initiating the many programmes held, to celebrate it. Members of the parish and Wilton Justice Group participated in these programmes.
On Oct.4th, the Feast day of St. Frances a Harvest Thanksgiving Mass, was celebrated, with participation by an international community, offering gifts of the earth, native to their own country. The donation for Lodwar, was presented to the retired Bishop Harrington, who ministered for many years in Turkana, and who graced us with his presence, telling us something of the lives of the people there, as well as thanking the people of Wilton parish for their generosity. The closing of the programme was marked, later in the day with the Harvest Festival celebration and went out on webcam. Laudate Omnes Gentes, laudate Dominum, was a recurring chant throughout the service, expressing our awe, wonder and appreciation for a creative, provident and bountiful God, manifested in the abundant harvest of both earth and soul. Here is a link to this service. Our hope is that we will continue that which we began by engaging positively and creatively with Mother Earth.