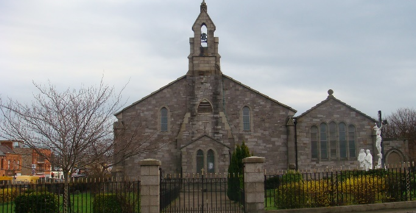 Pádraigín Clancy is the Parish Pastoral Worker at St Michael's Parish Inchicore and she has sent us this update: we have an active and committed Inchicore Environmental Group which has its genesis in the old Justice Peace and Integrity of Creation Group formed under the auspices of the Oblate Pastoral Area in Inchicore. The Environmental Group convenes twice a month (in normal times) and divides its time between a Grand Canal clean up and an Inchicore Village clean up. The group also plants bulbs and wildflowers in any waste ground of the area. During Covid times the group has continued to operate but in reduced numbers. We have a Parish Book Club affectionately called St Michael's Mystics! We spent the Autumn reading and reflecting on Brian Grogan's Finding God in a Leaf (by Zoom – most of us were first time Zoomers). It was a rewarding experience for all. It kept us in touch with creation and one another at a soul level during a difficult time. Our Club is now reading parts of Fratelli Tutti for Advent which is the sister book of Laudato Si – already one can see how much care for the earth is linked with our care for the poor.
We were disappointed as a faith community because we had some very creative liturgies in the pipeline for the Season of Creation in September/October and it was all cut short by Level 3-5. But this will come about again. However, we began Advent with speaker Jane Mellett from Trócaire. Jane spoke of the Advent theme of 'Staying Awake' and tied this in with our need to remain awake and vigilant as to what is happening in creation. She recommended we mind how much paper we use when wrapping gifts for Christmas etc. She also emphasised the parallel between our 'waiting' on Christ to come again at Christmas, with nature's quiet waiting as the earth's soil rejuvenates itself. Parishioners watching on our webcam found Jane's words very helpful. The parish has recommended that as much green space as possible is included in the new build at St Michael's Estate (which has been sanctioned for 500 housing units – much against the wishes of the local community).
Finally, myself as Parish Pastoral Worker and Dublin City Council, local historian, Cathy Scuffil, have proposed to DCC a Pilgrim Path for Dublin 8 as part of their Mapping Green Dublin' Project. This proposal would include the natural and built heritage. The pathway would offer spaces for moments of recollection and rejuvenation amid the busyness of city life. Places suggested include; Religious buildings (interfaith), outdoor grottos/holy wells, and places along the banks of the Camac river and the Grand Canal. We are also seeking to rebuild our Justice Peace and Integrity of Creation Group for the whole Oblate Pastoral Area in Inchicore (including the Parishes of Our Lady of the Wayside, Bluebell, Mary Immaculate Tyrconnell Road, and St Michael's Parish, Bulfin Road). We would be delighted if any ECI supporters living in the area or connected to the Inchicore area would care to join us in our endeavours!