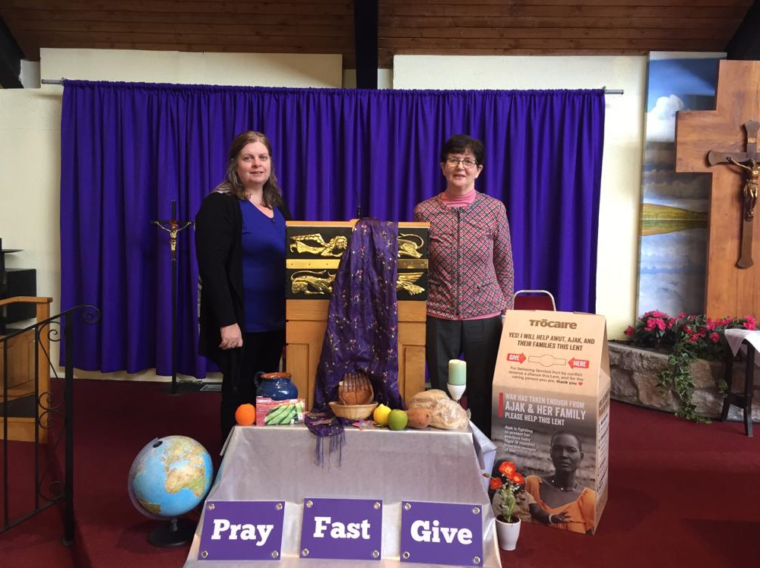 Carmel O'Neill sent this latest news:
During the months of Feb/Mar, Fr Richard, Pastoral worker Aine and Carmel led a weekly prayer service on the webcam for children preparing for First Holy Communion. The topics covered were Baptism, Grandparents day and the lives of Saints Brigid, Bernadette, Patrick, and Joseph. At each prayer service, intercessory prayer was included for protection of the earth and climate justice.
On Feb 19th , as part of the Trocaire Lenten campaign Carmel and Aine highlighted the important work that Trocaire do in helping those countries most impacted by Climate change.
We asked the children to consider funding a project called Seeds for Sudan which is being led by the Sisters of the Sacred Heart in South Sudan. These sisters not only teach families how to grow and care for their seeds but have also raised funds to build water towers, thus providing much needed irrigation in the growing season. We look forward to making a contribution to this worthy project.
Every Friday during Lent the Stations of the Cross were led by Aine, Carmel and Deacon Gerry. On Fri Mar 12th we did the Trocaire Stations of the Cross which provided much reflection and prayer for climate Justice.
As lockdown continued longer than anticipated, Lacken Tidy Village group did a Sustainable Gardening course over 5 weeks with Aoife Munn.
Blessington Tidy Towns did a Biodiversity course with Mairead Stack with a plan to developing a bee trail in the town. Both courses were excellent and informative, providing a welcome boost for all the participants.