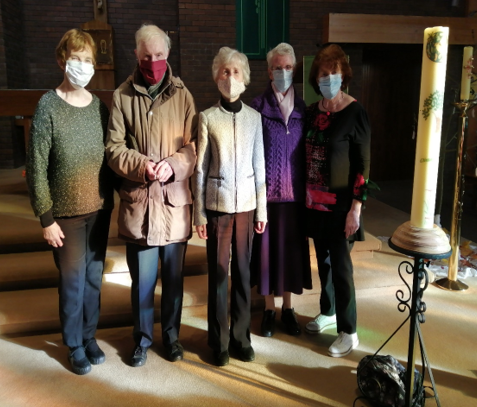 The ECI Climate Justice Candle was displayed and lit in the church on Saturday and Sunday 20 and 21 November, 2021.
Approximately 500 parishioners attended the 3 Masses.  We read a brief history of the candle and ECI, and prayed the "Prayer for Creation."  Sr. Margo Delaney of Bonnybrook Eco Parish, Dublin, kindly spoke for a few minutes at each of the Masses.
They also had a Climate Action Tree and invited all present to write on a label, an action which they promise to take to alleviate the climate crisis, and to hang it on the tree. Read more here.
Bonnybrook Parish Eco Aware Group responded to an invitation from Our Lady of Good Council, Johnstown, to speak at their Sunday liturgies, with a view to inspiring the parishioners to continue the journey towards becoming an eco-aware parish. Everyone felt it was a privilege be with them as they welcomed the Eco-Congregation Ireland Climate Justice Candle.