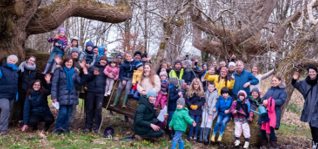 Barry Redmond & Mariella Spiteri from Focolare sent this report:
We would like to share with you and all our friends of Eco-Congregation Ireland our latest experience: a Tree-Planting Activity in Co. Offaly which took place on the 12th of March 2022.
Our friends, the von Ow family from Geashill, Co. Offaly had a brilliant idea to involve other families in a tree planting activity as they had a good number of broadleaf trees ready to find an ideal home for them. A neighbour of theirs, Christopher Fettes, passionate about ecology, was happy to offer his land on which he had already planted more than 12,000 trees. Another neighbour, Senator Pippa Hackett, Minister of State for Land Use and Biodiversity in the Department of Agriculture, Food and the Marine, was equally happy to be there to say a few words of encouragement for this special occasion.
On that day, we were quite a number scattered on the Bloomville land: children, young and old, local neighbours but also others coming together some for the first time from Co. Dublin, Co. Wexford, Co. Wicklow and Co. Kildare, a mosaic of families armed with spades, wellies, and a lot of contagious enthusiasm. We were about sixty people and we planted fifty trees amid squeals of laughter and pure joy to be out in the open air, dirtying our hands and feeling good to do something worthwhile for our planet.
Children's faces lit up with joy when everyone received a personal certificate as a keepsake of this day. This too, served as an incentive to visit again this place and encourage everyone to be responsible stewards in future by caring for each tree planted. Indeed, our team had put in a lot of time, effort, and expertise in choosing the right tree, the right place to dig the holes and the right time to do the actual planting.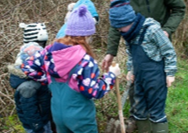 A fun thing was to include, after the tree planting activity had been completed, a six-stage educational trail to discover together the beauty of nature surrounding Bloomville house. At each location a parent gave a brief talk on what the children were looking at.
The first was the stream of pure water that comes from a nearby spring where the children had the joy of cupping their hands to drink directly from the spring while parents looked on. Then we went to the place where willow rods for basket making grow. Children had fun seeking the right sized willow rod to use as their walking stick or to poke at things which greatly attracted their attention like heaps of dry leaves.
The native oak woodland gave parents a challenge as a father was invited to fell a small tree with an axe to see how resistant they are and why our Irish ancestors used oak trees to build their homes. The badger sett intrigued the children as did the bat boxes high up on the trees where bats roost during the day. Many a willow rod went up to touch the wooden boxes opened by a slot underneath to allow bats to enter and take refuge. Children were enthralled by all these novelties! It was a truly fabulous educational trail, packed with fun activities for young and old. We simply could not resist a group photo at a magnificent two hundred and fifty-year-old Spanish Chestnut as a reminder of this day. Before we said our goodbyes, our team gave each family a gift of free trees to take home for their own gardens. Then just as we got into our cars, the heavens opened! It seemed as if everything had been planned perfectly for us giving us just enough time to finish in glory. We look forward to revisit soon with the same families, for yet another picnic, to continue with our stewardship programme on the progress of our trees.