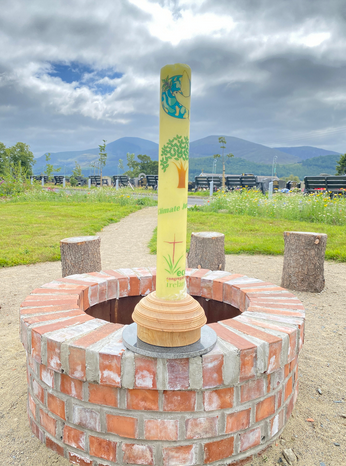 After many months of community volunteering and gardening at St Patrick's Cemetery in Bryansford village it was time for the Official Opening of the Sacred Garden.
Many people had contributed charitable donations. Parishioners and community had been very generous with their time helping out with digging, planting and weeding.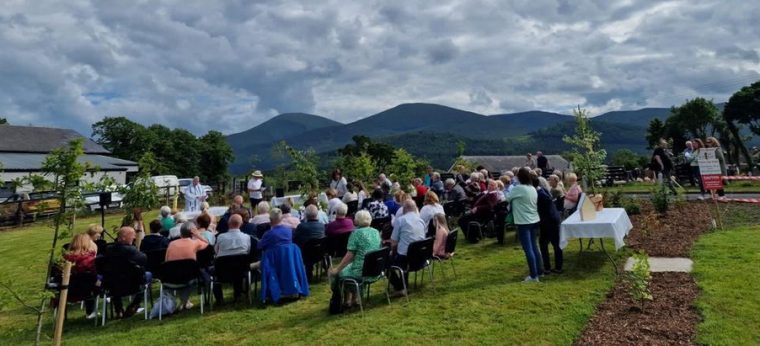 As every gardener knows, patience is needed for growth to take place and it was now time to celebrate the creation of this beautiful place of peace and reflection.
Fr Jim invited all to join him as he celebrated a special outdoor Mass in the Sacred Garden on Thursday 30th June at 5pm. Golf Links House had generously offered to provide an afternoon tea following the Mass. 'Walking in a garden can be a form of meditation and gardening itself is a way of acknowledging God as creator' added Fr Jim.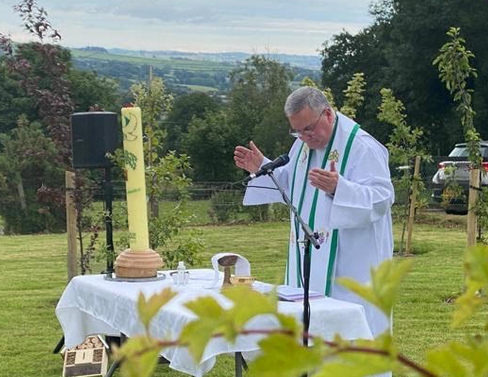 In November of 2021 the Parish set out to transform a green desert into a vibrant oasis full of biodiversity. There is a circle of blossom trees and in the centre a unique oak leaf sculpture made of Cortensteel with wooden acorns carved from a fallen oak tree in Tollymore at the base created by local artist Alan Burke. A wild flower meadow and managed mowing will ensure that the pollinators, bees, butterflies and hover flies will be attracted and well fed. This in turn will attract bird species, and small animals increasing biodiversity in the immediate area. The ground has been prepared using purely organic methods of gardening with no pesticides,only peat free compost has been used, thus honouring our responsibility to "care for our common home". Aiming to upcycle and repurpose as much as possible water butts have been installed to collect rainwater off the roof of the hall and compost bins will recycle garden waste.
There is a firepit surrounded by log seats where one can sit peacefully and remember a loved one, or enjoy the awesome view of the Mourne mountains or gather in a group to connect with the sights, sounds and smells of nature and have a friendly conversation.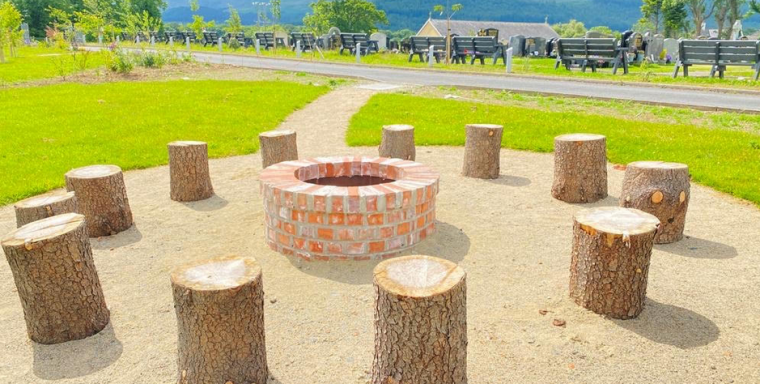 Across from the garden an avenue of native trees has been planted in the order of the letters of the ancientOgham alphabet. In front of each tree stands a pillar of Kilkenny limestone carved with letter, leaf, fruit and ogham symbol of each tree by local artist Eilis O Baoill. On top of each post local man Cathal O Baoill has designed a musical feature linking sound with letter and tree. We are grateful to the Obaoill family for researching this fascinating link which the ancient Celtic people shared between trees, writing and music. The Bryansford Ogham Tree Avenue is unique in this area and you are invited to come along and view this amazing feature and identify the different native trees by their leaf and fruit.
Finally sincere thanks goes out to everyone who has contributed to this project and although it is not possible to mention everybody the following people deserve recognition:
Thanks to:
Parish Priest Fr Jim Crudden for "planting the seed" of the Sacred Garden and for his continued spiritual leadership and support;
Parish Manager Brenda Webb for her organisational and communication skills;
Angela Drain of Bryansford Village who, with the help of Peter Kane of Maghera Village, designed, planted and created the Sacred Garden.