The Barn Owl, is known as the 'farmer's friend'. It has traditionally nested in old buildings, often within the farmyard. However, it has struggled in recent decades and, due to declines in population and range, it is now a Red-listed Bird of Conservation Concern in Ireland.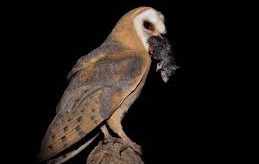 REPORT FROM ENNISCORTHY LIBRARY TALK ABOUT BARN OWLS
On Saturday, 13th August last, John Lusby, from Birdwatch Ireland, gave some facts about Barn Owls, for example:
Diet: mainly rats and mice. On any one night, 28 rodents can be brought to a nest.
Preferred nest sites: Old barns, but also, ruins of abbeys and castles, especially buildings with large disused chimneys. Also old trees with hollows, or well positioned nest boxes.
How is Barn Owl flight almost silent? All flight feathers are edged with fine soft barbules. However, this makes plumage not very watertight, so they can't hunt in heavy rain.
How Barn Owls hunt: Their ears are off-set, allowing the pin pointing of prey, even on a dark night. Their long legs can snatch a rodent out of long grass.
Where do Barn Owls hunt? Mainly along hedgerows, but the scarcity of hedges forces hunting along roadside edges, leading to Barn Owls being killed by traffic.
WHY HAVE BARN OWL NUMBERS DROPPED IN THE LAST FIFTY YEARS
The result of tests carried out on 69 Barn Owls killed on Irish roads showed that 88.4% of them had significant levels of rodenticide in their bodies. In addition to eating poisoned prey, Barn Owls have lost traditional nest sites and habitats. Roadside hedges which are less that 4 metres high make Barn Owl road deaths more likely. Owls flying over low roadside hedges are vulnerable to being struck by vehicles.
TIME TO TAKE HEART FROM THE 'A.C.R.E.S.' SCHEME
Barn Owls, as well as farmers, will benefit from ACRES (the Agri-Climate Rural Environment Scheme) which is part of Ireland's draft CAP Strategic Plan. This new €1.5 billion flagship agri-environment scheme is a farmer-friendly scheme to help address biodiversity decline while delivering income support for up to 50,000 farm families in Ireland. Aspects of ACRES which benefit Barn Owls include:
Subsidies for farmers who install Barn Owl nest boxes
Alternatives to the use of rodenticides
Encouraging more appropriate hedgerow management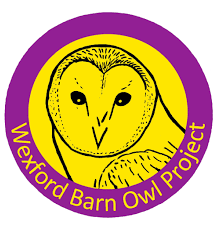 WHAT ONE COUNTY CAN DO – THE WEXFORD BARN OWL PROJECT
The Wexford Barn Owl Project grew out of a conversation in 2020 between Will Warham, farmer and member of the Wexford Union of Parishes, and Mark Stanley. They teamed up with friends and Birdwatch Ireland and the national Barn Owl monitoring programme. As a result the project now has a very impressive nest box scheme, bringing together volunteers, landowners and local sponsors. By 2021, over 50 nestboxes had been installed, with thanks to Wexford Men's Shed, Chadwicks, Wexford County Council and others. Now there are over 180 occupied nest sites in County Wexford. The project has a dedicated education programme for schools and a Facebook page @wexfordbarnowl.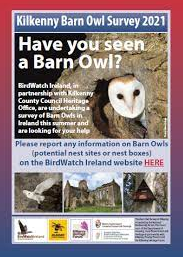 WHAT ONE KILKENNY FARMER CAN DO – NICKY MURPHY
Nicky Murphy is a lifelong farmer from Johnswell County Kilkenny and features on the website of Farming for Nature, a not-for-profit initiative which aims to support high nature value farming in Ireland. Nicky manages a conventional dairy farm milking 70 cows. He has about 30 acres of mixed forestry. Three years ago, he discovered a pair of breeding Barn Owls in an old beech tree, and this awakened in him and his family a tremendous curiosity for biodiversity. As a result, he has eliminated the use of rat poison on the farm. He has made numerous nest boxes for the Barn Owls and other birds. He has planted trees and re-incorporated hedgerows. Nicky fences off field corners to provide habitat for insects and birds. Nicky says he is proud of the simple changes he has made to protect wildlife, without compromising the productivity of his family farm.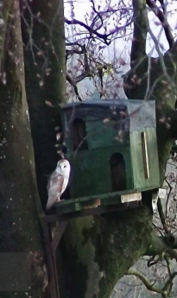 Heavenly Father, may it be, that Barn Owls will become as common as they were in times past, so that the use of rat poison will no longer be required,   as there'll be natural predators of rodents in the countryside once more. Amen.